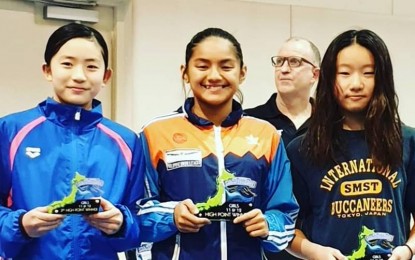 MANILA – Swimming internationalist Micaela Jasmine Mojdeh pulled off another sterling performance in her budding career, winning six gold medals in another record-rampaging campaign in the recently concluded 2019 Age-Group Champs Swim Meet in Tokyo, Japan.
Mojdeh, the country's newest swimming sensation and top aqua lass of the Philippine Swimming League (PSL) in the girls 11-12 division, ruled the 100-meter breaststroke (1:18.34), 100m butterfly (1:04.72), 200m Individual Medley (2:30.77), 100m Individual Medley (1:10.19), 50m butterfly (39.70) and 200m freestyle (2:13.01), all in record fashion.
Her performance in the 200m freestyle is the most underrated considering that the event is the least among her favorites.
"Medyo mataas pa nga po ang mga time niya dahil siguro po pagod na dahil panglimang tournament na po niya ito this year. (Her time is still high perhaps due to exhaustion because that was her fifth tournament this year)," Mojdeh's mother, Joan, said.
"Pero talagang marami siyang ginulat sa 200m freestyle. Hindi naman niya ito madalas languyin kaya nang matalo niya yung mga lehitimong free styler, nasabi na lang nila na very good strategy daw. (But she made big surprise in 200m freestyle. It's not her favorite and when she defeated the legitimate freestylers. They said it was very good strategy," she added.
Joan served as team manager of the PSL Team sent there, through the initiative of PSL president Susan Papa with the help of the Filipino-Japanese community in Tokyo.
Mojdeh, the 12-year old standout from the Immaculate Heart of Mary College-Paranaque, bagged eight gold medals and set seven meet records in the Beijing All-Star Swimming Championships held last month.
Mojdeh, a medal prospect in the coming 30th Southeast Asian Games this November if given a chance to join the Philippine Team, set meet records in the girls 11-12 division in 200-meter fly (2:17.89), 200m individual medley (2:25.68), 200m breaststroke (2:43.51), 100mbutterfly (1:04.67), 100m IM (1:09.85), 50m butterfly (29.41) at 50m breast stroke (36:13).
Her eighth gold came from the girl's 11-12 division 100m breaststroke (1.17.77).
"We keep our finger crossed na sana po matuloy yung nabalitaan namin na magpapatawag ang (that hopefully) POC (Philippine Olympic Committee) ng national tryouts para sa lahat ng (will hold national tryouts for all) swimmers regardless of affiliation," said Joan.
The Philippine Swimming Inc. (PSI), which is embroiled in leadership dispute and controversy, is the current swimming association recognized by both the POC and the International Swimming Federation.

Mojdeh, the Palarong Pambansa most bemedalled athlete, also owned a Philippine national junior record in the 100m butterfly in timed of 1 minute and 4.71 seconds during the 152nd PSL National Series, shattering her own mark of 1:05.10 established during the SICC Swimming Championship last August in Singapore. (PR)