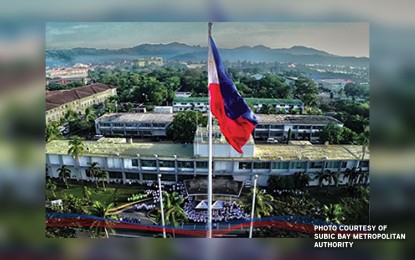 SUBIC BAY FREEPORT -- The Subic Bay Metropolitan Authority (SBMA) has started the implementation of a PHP530-million infrastructure program in an effort to upgrade the facilities in this freeport.
SBMA chairman and administrator Wilma T. Eisma said several rehabilitation projects that include the repair of roads and other related facilities are now ongoing or in the initial stages of preparation.
"More projects will be underway soon, so I ask Subic stakeholders, as well as visitors to the Freeport, to please bear with us on the temporary inconveniences like traffic jams, and a little noise and dust pollution because of the ongoing road projects," she said.
"We're doing this to improve the core business infrastructure here and to sustain the attractiveness of the Subic Bay Freeport as a globally-competitive trade and tourism center," she added.
Eisma said most of the road rehabilitation projects are funded under the national government's "Build, Build, Build" program.
"This was the first time that a massive road rehabilitation program is undertaken ever since Subic became a free port zone in 1992," she noted.
Eisma said the agency was able to first secure from the national government a PHP500-million fund for the Subic Bay International Airport (SBIA) rehabilitation program in 2017 and this was followed in 2018 by a PHP530-million fund for road rehabilitation.
She added that the SBMA Board of Directors has approved and awarded two new major rehabilitation projects: the PHP76-million road rehabilitation project proposed in 2016, and the PHP18-million drainage improvement project along Argonaut Highway-George Dewey Complex.
Meanwhile, Eisma said three other major projects are now up for bidding, namely, the Naval Supply Depot (NSD) Road Rehabilitation Project Phase 2, Road Rehabilitation Project 2018, and Road Rehabilitation Project 2019.
She said the 2018 road rehabilitation package is budgeted at PHP299 million and will include improvements at the Malawaan Park parking area, road ramp along Dewey Avenue, as well as repair of Waterfront Road, road to the New Container Terminal, Rizal Highway and Maritan Highway, as well as several roads in residential areas.
On the other hand, the 2019 road rehabilitation package has a budget of PHP253 million.
This will consist of repairs along main roads like Argonaut Highway, San Bernardino Road, roads to Leyte Wharf and Sattler Pier duct banks, Rizal Highway, Boton Highway, Binictican Drive, and the approaches to Kalaklan Bridge and 14th Street Bridge.
On the other hand, the NSD Road Rehabilitation Project Phase 2, with a budget of PHP85 million, consists of repairs of roads leading to the NSD Compound where most of grain and bulk shipments are done.
Eisma cited the importance of repair projects as some of the US Navy-built roads have deteriorated over the years. (PNA)