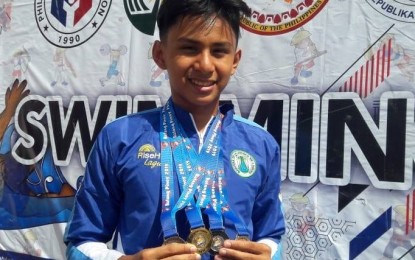 ILAGAN CITY, ISABELA -- Laguna on Thursday claimed five more gold medals to dominate the swimming competition in the 2019 Philippine Youth Games-Batang Pinoy Luzon qualifying leg at the Isabela Sports Complex here.
The Laguna tankers amassed a total of 13 gold medals, including four from Prince Dave Calma and three from Philip Miguel Mendoza, both competed in the boys' 13-15 category. The province also got 20 silvers and 12 bronzes.
Calma, a Grade 7 student from Pedro Guevarra Memorial High School, won the 50m backstroke, 100m backstroke, 200m backstroke and the 200m medley relay with Dave Daryl Bandillo, John Marocenel Alagon and Franz Isaac Ubaldo.
"Sobrang saya po [I'm overjoyed]," said the 13-year-old Calma when asked about his four-gold achievement.
Mendoza, on the other hand, topped the 200m freestyle, 400m Individual Medley and 1500m freestyle events. He also fished out three silvers in 200m backstroke, 400m freestyle and the 200m freestyle relay with Brent Dave Cadelino, Mardee Samaco, and Mark Jeremy Alimagno,
"I am very happy with my achievement," said the 14-year-old Mendoza, gold medalist in 2018 Batang Pinoy national finals and 2017 Palarong Pambansa.
Other Laguna gold winners were Quaantreulle Light Wangkay (girls 12-under 50m breaststroke), John Cyprus Factor (boys 12-under 200m freestyle), Dave Daryl Bandillo (boys 12-under 100m breaststroke), Franz Isaac Ubaldo (boys 12-under 50m freestyle), girls 200m freestyle relay (Jhiazel Fei Dolliente, Ashley Denise Dumpit, Sai Nazielle Samsaman and Mariah Genara Ubaldo) and girls 200m medley relay (Roshanne Ysabelle Biglete, Roz Clarence Encarnacion, Shinloah Yve San Diego and Quantreulle Light Wangkay).
Laguna swimming team coach Clarito "Sonny" Balita Jr. said he was delighted with the performances of his swimmers, most of them belonging to the Laguna Barracudas Club.
"I'm glad with the outcome of our campaign here in the Batang Pinoy, very fruitful," said the 49-year-old Balita, who has been coaching for the past 27 years.
Laguna also topped the medal board in swimming during the Batang Pinoy National Finals in Baguio City, winning 13 golds, two silvers and six bronzes.
"We're looking forward to the this year's National Finals and I hope my swimmers will once again deliver more medals," said Balita, who also coached former national junior Emmanuel Pedron, who saw action in the SEA Age Group Championships 2010.
Meanwhile, Micaela Jasmine Mojdeh won the girls 13-15 200m butterfly event for Parañaque's 10 gold medals. The city also got one silver and bronze.
It was Mojdeh's fifth gold after winning the 50m butterfly, 100m freestyle, 200m IM and 400m IM events.
Parañaque's other five golds were courtesy of Mark Bryan Dula in the 50m butterfly, 100m butterfly, 50m backstroke, 200m backstroke and 100m backstroke in the boys 12 and under category.
Puerto Princesa City brought home eight golds, six silvers and five bronzes while Dagupan City had eight golds, three silvers and one bronze.
Cainta City finished fifth with five golds courtesy of Aubrey Tom, who won in the girls 200m IM, 100m freestyle, 50m backstroke, 50m butterfly and 50m freestyle events in the 12 and under category. (PNA)