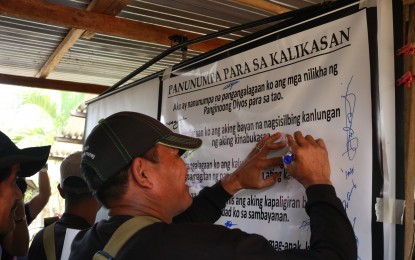 CITY OF SAN FERNANDO, Pampanga -- The Department of Environment and Natural Resources (DENR) is stepping up efforts to protect forests and watersheds, particularly in Bulacan, against fires which could be triggered by the extended dry season brought about by the El Niño.
Some 200 forest and fire protection officers, as well as upland farmers who are active members of people's organizations in the City of San Jose del Monte and nearby areas in Bulacan underwent basic firefight and first aid training on Thursday to upgrade their skills in combating wildfires in natural forests and established forest plantations.
Paquito Moreno, executive director of DENR 3 (Central Luzon), said that enhancing the skills of fire protection officers, as well as upland farmers and barangay personnel in fire suppression and control is the first step to effectively address the problem of forest fires.
The DENR enlisted the help of the Bureau of Fire Protection (BFP) to train the participants on how to combat the threats of wildfires.
During the event, experts from the BFP discussed techniques and strategies that may be used in handling a forest fire.
A live demonstration of useful first aid techniques for common injuries experienced by foresters was also conducted.
Forester Jesus Javier of the Forest Management Bureau cited the vital role of forests and watersheds in Bulacan in supplying water to Metro Manila and nearby provinces.
Forester Rudy Abrazaldo of the Provincial Environment and Natural Resources Office - Bulacan, on the other hand, called on the participating forest protection officers to increase their vigilance.
He said that forest fire incidents peak in summer, usually from February to May, when arid conditions become more pronounced.
To cap off the activity, the participants pledged their commitment to protect the environment through an oath, as well as by signing on a commitment wall. (PNA)