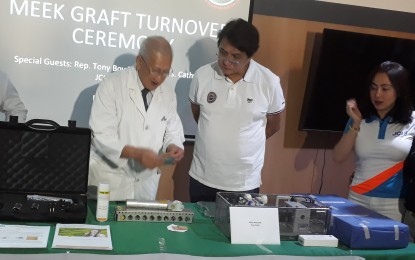 DAVAO CITY – The state-run Southern Philippines Medical Center (SPMC) on Tuesday received a Php2.9 million Humeca Meek Graft and Dermatomein burn treatment machine that could help accelerate healing and lower mortality rate for patients with severe burns.
SPMC, which admits 300 to 500 burn patients from different provinces in Mindanao yearly, became the first hospital in the country to be equipped with a graft machine.
Davao del Norte first district Rep. Antonio "Tonyboy" Floirendo, who donated the machine from his own pocket, said he chose SPMC because it serves many patients not only from Davao del Norte but also other parts of Mindanao.
Dr. Rizal Aportadera, chief of the SPMC Burn Unit, described the machine as a "very important life-saving equipment."
"This year we will be able to help a lot of severely burned patients survive because we have now this machine," Aportadera said.
Without the machine, Aportadera said healing takes longer and mortality is higher. Skin grafting is also expensive, she added.
"There are more than 200 children admitted here (SPMC). Most of them suffered from spilled hot water or coffee," Aportadera said.
The machine was first tried on Nemlord Neil Ayala, a five-year-old child who suffered third-degree burns from the gas lamp that fell on him on the night of December 7, 2018.
Nemlord's mother, Melissa, said she was preparing dinner when the gas lamp fell on her child. She panicked and doused water on the child to put out the fire but she said the conflagration even worsened.
Aportadera said some burn patients would even spend a year in the hospital to heal their injuries.
For this year, SPMC has recorded 22 deaths or less than six percent of the average total burn patients admitted in SPMC.
With the machine, Aportadera said healing is accelerated and therefore, less costly for the patients while decreasing mortality rate brought about by infections and other complications.
Aportadera said the machine is the first in the Philippines and is "very effective because the affected burn wounds are closing twice as fast and it can decrease infections twice as much compared to other machines". (PNA)