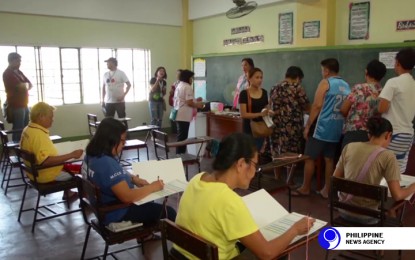 MANILA-- Proper shading and avoiding overvoting are the two things a registered voter needs to do for a hassle-free poll process this May, the Commission on Elections (Comelec) reminded Tuesday.
On May 13, from 6 a.m. to 6 p.m., the national and local elections will commence following a four month-long campaign period that started on February 12 for the national positions and March 29 for the local bets.
In a voter's education lecture in Quezon City, election officer Stephanie Bag-In said voters must remember to fully shade the circle beside the name of her/his candidate and avoid overvoting or else their ballots would be voided by the vote counting machine (VCM).
For senators, a voter could only pick 12 candidates or less. And while there are 59 seats available for party lists, a voter could only choose one group.
This year, there are a total of 61,843,750 active registered voters in the Philippines.
Graphics courtesy of Comelec
Voting process
The voting process starts from the voter looking into his/her name in the Posted Computerized Voters List (PCVL) at the polling place, which would determine the precinct number and sequence number.
Verification follows after a member of the electoral board (EB) verifies the voter's identity and checks if any of his/her fingernails have already been stained with indelible ink.
In some areas including Manila, Quezon City, Caloocan City, Pangasinan, Nueva Ecija, Cavite, Iloilo, Cebu, Negros Occidental, Zamboanga del Sur, Misamis Oriental, Davao Del Sur, and the Bangsamoro Autonomous Region in Muslim Mindanao, the Voter Registration Verification Machine (VRVM) will be used to verify the identity of the voter.
After the voter's identity has been established by the EB, the voter will affix his/her signature in the Election Day Computerized Voters List (EDCVL).
After these, the voter could now fill-up the ballot and cast his/her vote in the VCM, which will display messages and the ballot will automatically drop inside the ballot box.
On preparations leading up to the election day, Bag-In said almost all of Comelec's field offices have already complied upon the set timeline of the main office.
"So far, it's very smooth and ongoing," she told the Philippine News Agency in an interview. (PNA)