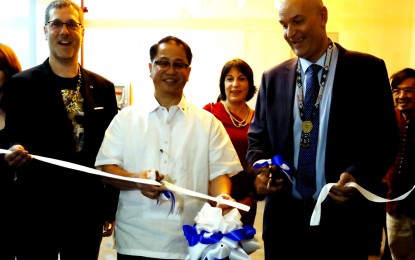 MANILA -- Though oceans may separate nations apart, people still share a common ground amid the spaces between what our borders dictate.
This spells true as the Embassy of Israel and the University of Philippines opened an art exhibit showing the vast similarities of two nations.
Israel Ambassador to the Philippines Rafael Harpaz welcomed guests and art enthusiasts alike to the Common Ground, an exhibit showcasing the ceramic art collaboration of the Philippines and Israel on Thursday.
"As my home country, the heart of the Filipino society is the family," Harpaz said in an interview.
The ambassador who has been around the Philippines for seven months now has enjoyed his stay, seeing that the Philippines like Israel is a very friendly nation.
This art event has invited Roy Maayan, an Israeli ceramic and interdisciplinary artist, to the country. He shared his process of stretching the material and conceptual boundaries of the ceramic medium to produce works that are not only rooted in tradition but contemporary as well.
The Israeli artist also immersed himself into the streets of Quiapo and Baclaran to get a glimpse of the Filipino culture.
He also led a lecture-demonstration on a mold of a popular Israeli symbol Matka, a racquet for their national beach sport Matkot. Among his favorites were clays of beer bottles and Catholic figures on top of a Matka.
"Like us, Filipinos have so much fun and are a very warm people," he said.
UP Master of Fine Arts Rita Gudiño also expressed her gratitude having to host such a benevolent event.
"There is nothing more binding than doing creative art, it is a model for unity between two nations," she said.
The Common Ground exhibit is a celebration of friendship between the two countries which share a deep history starting from former Manuel Quezon opening the Philippines for Holocaust refugees and Israel sending their biggest help yet for a foreign country on the aftermath of Typhoon Yolanda.
The exhibit at the UP Diliman College of Fine Arts will be open for viewing to the public until April 27. (PNA)