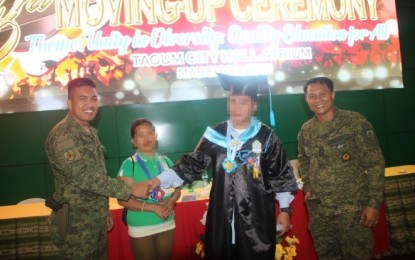 DAVAO CITY -- A 24-year-old supporter of the Communist New People's Army (NPA) who surrendered to government forces and became a scholar of the Philippine Army's 71st Infantry Battalion (71IB) was among the successful graduates of the Liceo de Davao Tagum College.
Identified only as alias Peter, he received his diploma on Bachelor of Science in Secondary Education on Friday's graduation of the Liceo de Davao Tagum College held at the New City Hall building in Tagum City.
Peter was a student of a Salugpungan school run by the Mindanao Interfaith Services Foundation, Inc. (MISFI) in Sitio Tyra, Barangay Lapu-Lapu, Maco, Compostela Valley that has been reportedly penetrated by the communist recruiters teaching students to grow up hostile to the government.
Peter came from a poor Mansaka tribe family who cannot afford to send him to school. After finishing high school in the Salugpungan, MISFI sent him to Liceo de Davao as its college scholar on condition that he would go back as a volunteer teacher of Salugpungan school after graduation.
In 2018 at the height of the mass surrender of the New People's Army (NPA) members and underground supporters and arrest of some insurgents, Peter and his brother, who was serving as informant of the NPA, feared they would also suffer the same experience of those arrested by the government.
This prompted Peter and his brother to surrender in August 2018 in Purok 8, Barangay Nueva Visayas in Mawab, Compostela Valley. His surrender also cut the scholarship from MISFI. Nowhere to go, Peter then sought the help of the 71IB.
"We were told he did not like it teaching in Salugpungan. That after college he would take the exam for teachers and work somewhere else," said First Lt. Jhocell D. Asis, Civil Military officer of the 71st Infantry Battalion based in Maco, Compostela Valley province.
In a phone interview on Sunday, Asis said the 71IB went beyond its means and helped Peter continue with his college education at Liceo.
Asis said Lt. Col. Esteveyn Ducusin, the commanding officer of 71IB and whose advocacy is empowering youth, decided that the unit will take responsibility for Peter's studies.
The 71st IB assisted Peter in all school's requirements, including financial assistance and board and lodging.
"We are joyful having known Peter's graduation. This only implies that those who go back to the folds of the law are ensured with opportunity for better life. And we will always extend help to those who will cooperate with us," Ducusin said in a statement.
Peter has already expressed his intention to join the Army.
"He really liked to join the Army so we will help him process his papers and take the exam in October. He can qualify for an officer because he is a college graduate," Asis said.
Asis said the 71IB has also facilitated the employment of his brother in a private company. He refused to name the company for security reasons.
The 71IB also enrolled the family of Peter in the People's Organization created by the Army troops to assist families of the surrenderers. Peter's family has already planted the seedlings provided by the 71IB.
"May lupa kasi sila na gusto i-develop (They have now lands they want to develop) into an agricultural area," Asis said.
According to Asis, the 71IB will continue to provide interventions in areas affected by communist insurgency. (PNA)