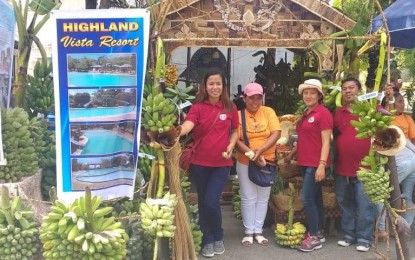 LA CASTELLANA, Negros Occidental -- This central Negros municipality, which is celebrating the annual Banana Festival from April 1 to 5, is optimistic of good production this year despite the dry spell due to El Niño.
Ismael Montiflor, Municipal Agriculture Office coordinator for banana, said that since the banana plant is succulent, it can tolerate extreme heat.
"We have observed good growth of banana fruits this month despite the depleting sources of water, especially in upland farms," he added.
Montiflor said the trunk of the banana plant is even utilized as cover or shed for other crops, such as vegetables.
La Castellana, located at the foot of Mt. Kanlaon, has about 500 hectares of sporadic banana farms in all its 13 villages.
Most backyard type farms can be found in barangays Cabagnaan, Sag-ang, Mansalanao, and Masulog, producing in bulk the cardaba variety locally known as "sab-a". Also grown are the latundan and balangon varieties.
Two years ago, farmers developed the "sab-a" sticks, which has become another source of livelihood.
Now on its 22nd year, the Banana Festival mainly promotes the products of the town's banana farmers.
Mayor Rhumyla Nicor-Manguilimutan said the festival has become a venue for farmers to showcase their products, both raw and processed, and tap more potential markets.
"The annual activity also shows the craftsmanship of the people of La Castellana, especially on how they set up their agro-trade fair booths," she added.
All 13 barangays, through their respective booths, showcase various varieties of banana.
Aside from the backyard farms, La Castellana hosts a 17-hectare banana plantation run by a private company in Barangay Lalagsan. The farm has a monthly production of 27 tons which are exported to China.
On top of the 17 hectares, it has a newly-planted area of six hectares and aims to cultivate an additional 12 hectares.
Montiflor said that more than the dry spell, what banana farmers should watch out for is the occurrence of pest and diseases, like fungus.
Fungus infestation among bananas, which is manifested through the blackening of fruits, is prevalent during rainy season, especially from June to October.
"Farmers are advised to clean their banana farms through underbrushing or weeding to prevent fungus growth in the area," Montiflor said.
Last year, fungal diseases, such as the sigatoka and bunchy top, brought down banana production here by almost 50 percent.
Montiflor said farmers have been advised to plant in other areas and given technical assistance to mitigate the effects of pests and diseases.
"We are hoping to further recover this year. We are closely monitoring the banana farms," he added. (PNA)