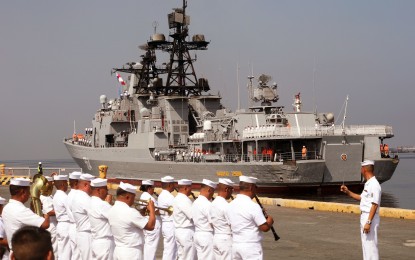 MANILA -- Three ships from the Russian Pacific Fleet berthed in Manila on Monday for a five-day goodwill visit to the Philippines and to bolster naval cooperation with its Filipino counterparts.

"The main objective (of this visit) is to enhance our naval cooperation," Russian head of mission, Captain Sergey Alantiev told reporters in a press conference.

The Russian port call, which is second of its kind in 2019, will include joint drills on navigation and communication as well as special trainings with the quick response forces of the Philippines.

Alantiev said the port call serves as "clear evidence" to the implementation of relevant bilateral agreements between the two governments.

"Such port calls make tangible contribution to the peace and stability in the Asia Pacific region. I strongly believe that only by combining our resources and efforts can we cope with present-day threats and challenges," he said.

For the Philippine government, the presence of the Russian Navy contingents in the country demonstrates continuing efforts to further strengthen the relationship between the two nations and its navies.

"This will further enhance and sustain the promotion of peace, stability and maritime cooperation," said Captain Constancio Arturo Reyes Jr., representative of Philippine Flag Officer in Command.

"We are looking forward to strengthening this bilateral relationship to the next level," he added.

The large anti-submarine ships Admiral Tributs and Vinogradov, as well as the large sea tanker Irkut, were welcomed by members of the press after its customary meeting procedure with the Philippine Navy vessel BRP Ramon Alcaraz at the vicinity of Corregidor Island.
Aside from joint drills, the visiting navy and their Filipino counterparts will engage in confidence-building activities such as ship tours and sports events.

Alantiev, along with the commanding officers of the three vessels are scheduled for a courtesy call on Flag Officer in Command Philippine Navy Vice Adm. Robert Empedrad.

Alantiev said the visit is also "symbolic", timed on the eve of the Philippine Day of Valor.

"We consider it an honor to give respect to the World War II veterans of the Philippines," he said, sharing Russia was deeply affected by the second World War and that their respect for the veterans is "timeless."
"Their deeds are among the fundamental values that unite the Russian societies at all levels," he said. (PNA)