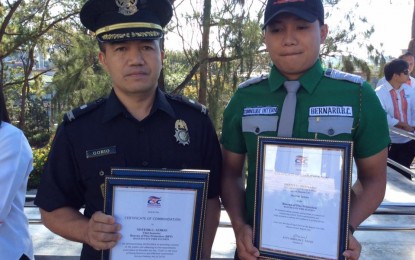 BAGUIO CITY -- True to her word, Civil Service Commission (CSC) Commissioner Aileen Lizada conducted a spot inspection of government offices in Region 1 (Ilocos) and Baguio City.
During Monday's flag-raising ceremony at city hall here, Marilyn Taldo, CSC Cordillera regional director, said that Lizada lauded the Bureau of Fire Protection and an intern assigned in the office for manifesting good public service.
"The Commissioner herself did a spot inspection in government offices in Baguio and she personally saw the display of excellent and facilitative service to the public," Taldo said.
Lizada held the inspection in some regional offices during the last week of March. Among the offices visited were the Philippine Statistics Authority (PSA), Land Transportation Office (LTO), Land Transportation Franchising and Regulatory Board (LTFRB) including the Baguio City Police Office (BCPO), Bureau of Fire Protection Baguio (BFP-Baguio), and three offices under the city government -- City Social Welfare and Development Office (CSWDO), City Planning Office, Emergency Medical Service (EMS).
She also visited the Social Security System (SSS), Bureau of Plant Industry (BPI), Philippine Postal Service, Government Service Insurance System (GSIS), and the Department of Trade and Industry.
The spot inspection yielded different results, but Taldo said Lizada congratulated the BFP for the excellent service in relation to the ease of doing business that government offices are mandated to pursue.
"Spot inspection will be done regularly as part of her (Lizada's) mission. I would like to enjoin all govt workers to display and to comport themselves in accordance with what is expected of us as government workers and to comply with the Anti Red Tape Act of 2007 as amended by the ease of doing business for efficient delivery of government service act of 2017," Taldo said.
City Fire Marshal Chief Insp. Nestor Gorio, in an interview, said Lizada and two of her staff went to the city fire office on March 29 and pretended to be clients.
Brent Bernard, a Criminology student of Easter College having his internship assigned at the front desk, attended to the visitors and referred Lizada and her companions to the investigation office where they were given prompt service and the report they were asking for.
Unknown to them, they were being video-taped and were found to be working and rendering good public service without the need to be watched.
"When she introduced herself, she also commended us and congratulated us for the kind of service we do for the clients," Gorio said.
He said that he is proud that the personnel in the office were doing their jobs as expected, on a Friday without being told.
In the same flag-raising ceremony, Mayor Mauricio Domogan urged employees of the city to do their jobs well and avoid playing mobile games at work.
Domogan said Lizada told him of one of the employees caught playing mobile games during office hours.
"Let us not do that because that is concrete evidence that we are not doing our work if you are just playing games in your cellphone," Domogan said. (PNA)