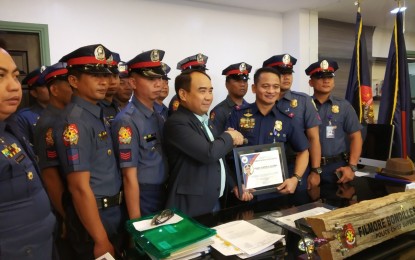 MANILA -- The Philippine National Police (PNP) has provided 21 police officers to the Presidential Task Force on Media Security (PTFoMS) as part of efforts to protect media practitioners, especially during the election season.
PTFoMS Executive Director, Undersecretary Joel Sy Egco, expressed gratitude to Police Security and Protection Group director, Police Brig. General Filmore Escobal, for this gesture.
"Basically we are here to personally express our gratitude to (Brigadier) General Escobal. Alam niyo kasi (You know) today, this is election season, and we observed in the PTFoMS that every election season is the most risky for media workers or journalists nationwide," Egco told reporters in a press briefing after the simple turnover ceremony of the 21 cops.
Citing the Maguindanao massacre, which happened ahead of the 2010 presidential elections, Egco said the police officers will help secure media workers against election-related violence and assist the task force in investigating media killings.
Egco said the 21 PSPG personnel detailed to PTFoMS will conduct investigation of 170 cases from 1986 up to present.
The PSPG is the PNP unit mandated to provide security to anybody who needs it, including media workers facing threats.
"In terms of media killings, the PTFoMS has all the data. We have agreed long before that there should only be singular data. If you want updates on the case, you will be referred to the PTFoMS. This is the start of something good. We have to be vigilant now. There is indeed a spike in violence against the media. This is a sign we're actually prepared for anything. Not just the PNP, the NBI (National Bureau of Investigation) and AFP (Armed Forces of the Philippines) are also there," Egco stressed.
Egco, a former journalist, said dirty politics, crime and corruption and economic vulnerability are the three main factors contributing to violence against media workers, especially those based in the provinces.
"We have to be very vigilant, we recognize the problem on media violence. I spent more than two decades (in) media. Always stick to the highest ethical standards of the profession," he said.
Egco said they will assign the police personnel to media practitioners, who have imminent threats against their lives in line of their jobs as well as those who will be assigned to cover critical areas.
He said media personnel may send requests to their office for the provision of security personnel.
"What we usually do is we contact the local police to provide immediate security. We must be pro-active unlike the former task forces which were reactive. They only act when the journalist is already killed. Here, once the journalist calls, within 10 minutes, we have what we call quick reaction system and I instructed my men, you need to act within 10 minutes or you're fired," said Egco.
Escobal, meanwhile, said the PSPG will fully support the PTFoMS when it comes to securing high-risk individuals.
"Since they (21 cops) are detailed to PTFoMS, they will perform duties on investigation and we will utilize, create regional and security protection unit personnel based on what the PTFoMS needs," Escobal told reporters.
"We can provide security as long as it's not permanent. The permanent provision of security will depend on Comelec (Commission on Elections) provision," Escobal said. (PNA)