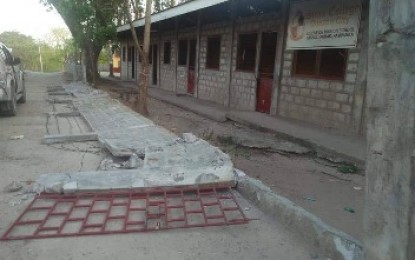 MANILA -- The Department of Education (DepEd) has suspended work and classes in several public elementary and secondary schools in the National Capital Region (NCR) following the 6.1-magnitude earthquake that hit Luzon on Monday.
In a statement on Tuesday, Education Secretary Leonor Briones instructed all concerned units to make the necessary adjustments in their scheduled activities, and cautioned officials to proceed only with urgent activities "provided that the Office of the Secretary is informed, and that necessary measures to ensure safety are taken."
Class and work have been suspended in 1,624 schools in the provinces of Zambales, Pampanga, and Laguna.
According to DepEd's partial situation report, as of 11 a.m., a total of 15 schools have been damaged by the moderately strong earthquake.
They are Carlos P. Garcia High School, Saysain National High School, Colo Elementary School, Facundo Angeles Memorial Elementary School, O.M. Esteban (Pulong Yantok) Elementary School, Linagit Primary School, Gabihan Elementary School, Balaong Elementary School, Calumpang Elementary School, Bagong Barrio (Balasing PS Annex) Elementary School, Planas High School, Dela Paz Elemetary School, Sta. Cruz North Central School, Mapanao Elementary School and PICAB Elementary School.
These schools have cracked floors, collapsed perimeter fences, walls, ceilings, and damaged corridors, pathways, and school buildings.
The DepEd said classes and work in private elementary and high schools and at the tertiary level in the three provinces were also suspended.
Earlier, the DepEd released a memorandum for the thorough and immediate inspection of school and office buildings and facilities.
"Only when the structural integrity and safety of school buildings and facilities is assured can the learners, teachers, and personnel be allowed to enter the same," DepEd Undersecretary for Administration Alain del Pascua said in the memorandum. (PNA)