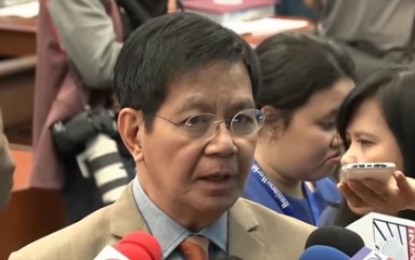 MANILA -- Senator Panfilo Lacson is keeping the door open to the possibility of a presidential run in 2022.
In a television interview, Lacson said he is open to run for president under the condition that he has a "clear chance" of winning.
"When people talk to me about the possibility of running in 2022, ang balik ko sa kanila (I reply to them), I have only one requirement. I'm not closing the doors but I have only one requirement," Lacson said.
"Give me a clear chance of winning. I've become more pragmatic," he added.
Lacson first ran for president in 2004, but placed only third behind Gloria Macapagal-Arroyo and the late movie actor Fernando Poe Jr.
He also did not proceed with his bid for the country's top post in 2016 after a laggard performance in the surveys.
"After all these years in politics as a senator, I won three times. I lost one presidential campaign. You become more practical, you become honed, sa experience mo (from your experience)," Lacson said.
"So yan lagi sinasagot ko (That's my usual answer). If you are encouraging or urging me to run, I have only one requirement. Show me I have a clear chance of winning," he added. (PNA)