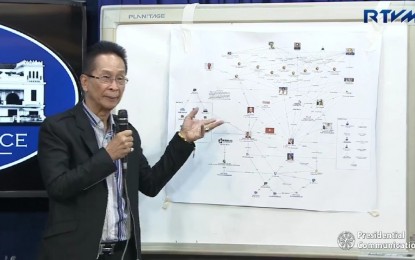 MANILA -- The opposition Liberal Party (LP) and other groups are conspiring to discredit President Rodrigo Duterte and boost their candidates' chances of winning in the upcoming mid-term polls, Malacañang said on Wednesday.
In a Palace briefing, Presidential Spokesperson Salvador Panelo presented a cartolina-sized diagram which showed that some members of LP, Magdalo group, and media organizations in the "Oust Duterte" matrix are working together as part of efforts to destroy the Duterte administration's image.
This new diagram, the first of many other matrices, came two weeks after Panelo released the "Oust Duterte" matrix that links media outlets Rappler, Philippine Center for Investigative Journalism (PCIJ), Vera Files, and lawyers' group National Union of People's Lawyers (NUPL) as part of a coordinated media plot to discredit the President.
"The Office of the President, the President himself has received information, intelligence information that has been validated and appears to show that there is a deliberate attempt to discredit this administration, as well as to boost the candidacies of the opposition's senatorial candidates and it appears that there are certain groups who are working together to achieve this goal," Panelo said.
He said this group appears to be the LP with some personalities identified as advocates or very active in social media dishing out anti-Duterte statements and sentiments that were validated to be allied with LP, which is also working together with groups as indicated in the matrix presented the other week.
Panelo said copies of the matrices were validated by the President himself.
Conspirators
Based on the analysis, Panelo noted "multi-noble relationships" of the groups in the matrices from Vera Files president Ellen Tordesillas, particularly on her online activities.
Panelo said Tordesillas' activities revealed "a very active collaboration" between the groups of former Presidential Spokesperson Edwin Lacierda, blogger Eduardo "Cocoy" Dayao, exiled communist rebel leader Jose Maria "Joma" Sison, Senator Antonio Trillanes IV, website developer Rodel Jayme -- the narrator in the "Ang Totoong Narcolist" videos linking Duterte's family and allies to the drug trade -- Bong Banal, and other LP groups and supporters.
He said Arman Pontejos, a former Navy officer and a member of the Magdalo group, also collaborated with Jayme, who is behind the Metro Balita website where the Bikoy videos first surfaced. The same site promotes "Otso Diretso" candidates on its Facebook page.
Moreover, another diagram showed links between the NUPL, Jayme, Trillanes, Otso Diretso candidates Gary Alejano and Florin Hilbay, and media outlets Rappler and Vera Files.
Panelo said many of the names mentioned in the diagram, mostly advocates of LP, shared the same four-square meter office in Makati and that they share the same e-mail addresses.
"The intelligence information shows that some of them, if not all of them, are using the same office — a four square meter office. And then, even their e-mail address appears to be — that their e-mails are the ones sharing this video of Bikoy," he added.
"It is obvious that these groups have linked together to discredit the Duterte administration and to boost the candidacies of the Otso Diretso senatorial candidates," he said.
Different voices
Panelo bared the new matrices a day after he said that Peter Joemel Advincula, a man claiming to be "Bikoy" in the "Ang Totoong Narcolist" videos, was only being used as a "pawn" by groups seeking to discredit the President.
He claimed that Advincula's voice did not match the voice of Bikoy in the videos since they had different accents.
"If you listen, you will notice that the accent of the Bikoy in the video has an Ilocano accent, while Bikoy who represents himself as Peter Advincula has a Bicolano accent because he is a Bicolano from Sorsogon," he added.
He also claimed that Banal, a known LP advocate, is the narrator in the controversial videos.
"It appears now in that video, it was Bong Banal who was the narrator. And Bong Banal is supposed to be kind of expert in IT, and a known advocate of the Liberal Party," Panelo said.
In a separate statement, Banal also denied Panelo's allegation and dismissed it as "fake news."
Panelo, meanwhile, said Palace will allow the Department of Justice (DOJ) to determine whether cases could be filed against those involved in the conspiracy.
Asked if the new matrices were also obtained from a foreign source like the "Oust Duterte" matrix, Panelo said he had no knowledge but trusted the President's word.
"Knowing him as one who is a thinking President, he would have validated every information he has received," Panelo said.
Meanwhile, Philippine National Police (PNP) spokesperson, Col. Bernard Banac, said the PNP fully supports the efforts of the government to identify the people behind the videos.
"We will continue to investigate and file appropriate charges, if evidence warrants," Banac said.
Tordesillas, in a separate statement, denied Panelo's allegation and challenged him to present proof to his claims.
"I deny allegations by Presidential Spokesperson Salvador Panelo linking me to any imagined destabilization efforts against the administration. I challenge him to present evidence, not just silly diagrams," Tordesillas said in her official Twitter account. (PNA)