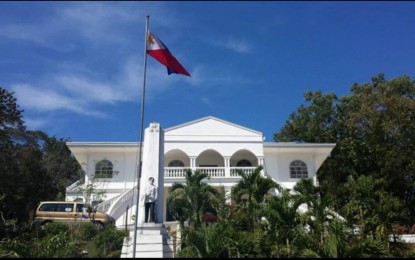 LAOAG CITY -- Most residents in Piddig town showed their unity in Monday's elections when they voted in favor of all candidates from the Nacionalista Party (NP), the country's oldest political party.
Engineer Eduardo "Eddie" Guillen, the come-backing mayor of Piddig town, said the result was overwhelming.
"To my constituents, thank you so much for your all-out support and the whole group of Team Piddig ang Galing! Rest assured that we will serve well our beloved town," said Guillen in his Facebook post after he and his team won.
For the first time in the history of Piddig and Ilocos Norte, the Municipal Board of Canvassers proclaimed all winners from only one party, whose candidates from mayor, vice mayor and councilors are almost all relatives by affinity --the Salazars and Guillens of Piddig.
Garnering a total number of votes of 7,610, Guillen won against his intense political rival former mayor Kennedy Aquino with 3,691 votes.
Vice Mayor-elect Edwin Salazar, brother of outgoing mayor Georgina Salazar-Guillen, also defeated incumbent Vice Mayor Generoso Aquino.
The historic Piddig town, known for its "basi revolt" (caused by the Spanish prohibition of the production and sale of the sugarcane wine called "basi" in 1807), has been a stronghold of the Salazars and Aquinos until Guillen came into the picture and initiated notable achievements in making the town a model of national convergence through the establishment of the largest coffee plantation in the region and just recently, the development of a sunflower farm and vegetable gardens, which are now attracting tourists worldwide.
Under the Guillen administration, multi-million projects, such as improvement of farm-to-market roads and small water impounding dams, among others, had been implemented.
Some residents believe the current administration's quality leadership and excellent performance in government service have helped in the winning of the NP candidates under Guillen as the standard bearer.
Other winning town councilors from the NP slate include Hershey Mandac, Dexter Yapo, Wilbor Bringas, Lendell Chua, Nenita Alejandro, Marianito Foronda, and Rey Nicolas. (PNA)