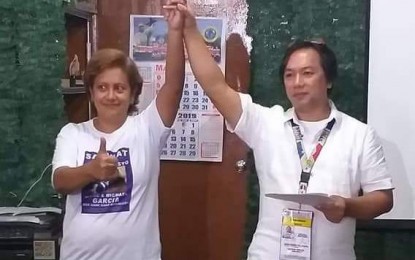 BACOLOD CITY -- Moises Padilla Vice Mayor Ella Celestina Garcia-Yulo, who was elected mayor during Monday's elections, has vowed to bring government service back to the people.
The grief-stricken town official, who lost a brother and a nephew to violence during the campaign, made the promise after winning with 13,056 votes against her uncle, reelectionist Mayor Magdaleno Peña, who garnered only 5,493 votes.
Garcia-Yulo's running mate, Ian Villaflor, who got 13,612 votes, also defeated Peña's ally Antonio Suatengco, who had 3,714 votes.
Some residents complained of lack of access to the municipal hall when Peña, a former mayor of Pulupandan, Negros Occidental, took over the helm of the local government. Peña and Garcia-Yulo were running mates in 2016.
The mayor-elect embraced her victory with a tinge of sadness as she is still grieving the loss of her brother, Jose Marcelino "Marc" Garcia, former president of the Association of Barangay Captains, and their nephew, reelectionist councilor Jose Antonio "Michael" Garcia, who were gunned down on their way home from a house-to-house campaign on April 25.
Their family is still holding the wake of Michael Garcia at their ancestral home in Barangay 1, Poblacion. His interment will be held along with the inurnment of Marc Garcia's cremated remains on May 18.
"You want to be happy, but you're not really happy," said Garcia-Yulo, who was proclaimed as mayor by election officer Jesus Gaston on Tuesday morning.
She said her overwhelming victory is a "very clear" statement that the people of Moises Padilla want Peña out of their town.
Garcia-Yulo, who also served as town mayor from 2013 to 2016, said she would serve her constituents with her family's brand of public service like what her father, the late mayor Jose Garcia, delivered.
The mid-term elections was generally peaceful in Moises Padilla, where hundreds of policemen and soldiers were deployed after it was placed under the control of the Commission Elections (Comelec) on May 6, following the violence that claimed the lives of the Garcias.
The central Negros town was listed by the Comelec under Category Red due to election-related incidents in the past two elections and intense political rivalry and also with a serious armed threat posed by the New People's Army and other lawless elements.
On May 8, President Rodrigo Duterte visited Moises Padilla to hold a security meeting with top officials of the Philippine National Police and the Philippine Army in Western Visayas. (PNA)