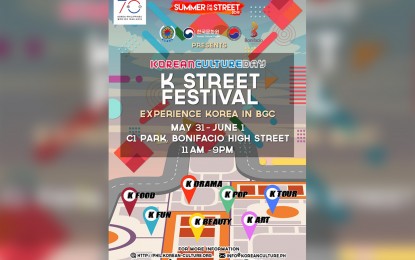 MANILA -- For the first time, the Korean Cultural Center in the Philippines (KCC) would be hosting a "K Street Festival" at the C1 Park, Bonifacio High Street, Taguig City from Friday to Saturday.
The event is open to the public and admission is free.
Attendees could visit various sections that would give them the vibe and a glimpse of different things about Korean: K-Pop, K-drama, art, tourist spots, food, and beauty products. There would be games, too.
KCC Director Lee Jincheol earlier told the Philippine News Agency (PNA) that the center wants Filipinos to learn and appreciate Korean culture, not just by watching movies or K-dramas, but also by attending this kind of event.
Just like KCC's Korean Culture Caravan that goes to schools, the event would also feature a hanbok wearing station, as well as cooking demonstrations.
Attendees who could visit the total of seven stations in this event would have a chance to win raffle prizes.
Kukkiwon Taekwondo Demonstration Team from South Korea, SB19 and the 2018 Pinoy K-Pop Star winners K-IDLE, Kaiju-x, Mix'in, John Paul Manuel, Sandra dela Cruz, and Venisse Nicole Siy, would be there to entertain the public.
Meanwhile, the Philippines and South Korea are celebrating their 70th year of bilateral relations.
Lee earlier said KCC aims to stage bigger cultural shows in 2019 to celebrate the friendship between the two countries.
As a kick-off activity, KCC held the "Strokes: Beautiful Korean Calligraphy" exhibit in February.
Last March, over 3,000 people attended the 2019 K-Pop Friendship Concert in Manila, which was staged to celebrate the occasion. (PNA)