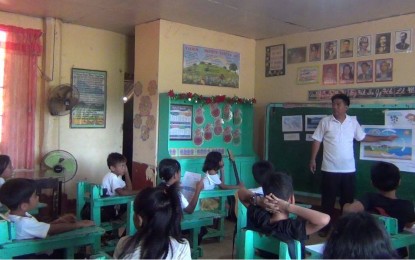 By Christian U. Burgos
A friend once told me how disappointed he is with the newly-hired teacher who kept on complaining with the given load.
"What is she complaining about?" I asked my friend.
"That assuming egoistic newbie, she keeps on complaining she's so hard up teaching six hours a day in Section 2 and 3 Class, with only five lesson preparations!" My friend is shouting.
"So why are you so furious then?" I asked him calmly.
"Well it's because I am teaching straight subjects of Grade 6 without a relieving teacher and I am also handling 2 pupil organizations plus the duty of an ICT Coordinator," he explained. An ICT Coordinator is someone who makes report through the internet, usually about school enrolment and other school statistics.
"Then I should be mad at you," I smiled with confidence on my remark.
"Why should you?" He was puzzled.
"Because I am a Multi-Grade Teacher."
Sometimes, we are busy in our own school struggles that we complain. But when we mirror ourselves to others, we can see that we are more fortunate because we realize that our struggles are not really struggles to others.
I am a Multi-Grade Teacher. So what?
Well basically, I teach Grade 5 and Grade 6 in a single, not so spacious classroom. If I describe my classroom, I would say that it is a part of a three-room parent-made classroom in 1959, renovated in many ways just to survive storms and wood-eating creatures. In 2016, it was declared unsafe by municipal engineers because its corner posts are termite-infested but we can't possibly demolish it as we are still expecting its replacement.
I have 15 Grade 5 pupils and 10 Grade 6 pupils. Manageable?
I prepare eight lesson plans for Grade 5, and eight lesson plans for Grade 6 everyday. Easy?
I prepare at least 8 different visual aides everyday. Light?
My home to my "second home" is about 10 kilometers and you have to travel through rough roads. (My pupils describe the road as powdery.) Enjoyable?
Our school is located beside a mountain. It is a common scene to see lizards and rats. Sometimes snakes. Natural?
I asked my friend if my being a multi-grade is manageable, easy, light, enjoyable and just natural. He simply said, "don't be mad at me my friend."
Being a multi-grade teacher is an everyday struggle. Well, at least in your first year of teaching, or months or years of adapting. As to my experience, it becomes easier everyday. My inspiration here is HL Neri who wrote "Love Your Work." Work is not work anymore when it becomes a pleasure, he said. So I am taking my school work as a pleasure. Anyway, twenty five pupils from different cultures and smells are still God's gift.
Daily Lesson Plans, oh DLPs, how I hate them they took most of my slumber time. But DLPs became my lovelife because I was chosen to be a part of the team in our division who wrote prototype DLPs which we now adopt in our daily teaching. And this MG-DLP writing was institutionalized. Download Deped Order No 8, series of 2018 and see how much the government spent for this in remembrance of their care to Filipino children who live in far-flung areas. Thanks to my teammates by the way. Our DLPs are helping thousands of teachers all over the country.
Visual aides, on the other hand, had squeezed my brain beautifully. I discovered I love art, and music and dances. I had made paper robots and drew a lot of birds and Mickey Mouse. I also was able to draw the picture of a girl I fantasized when I taught adjectives. I downloaded and edited music to incorporate in a relatively creative ethnic dance. I bought guitar and drumsticks and lyres. For the love of music, visual and performing art, I was a multi-graded teacher. And I am still.
And what if I ride just so I can teach. Imagine you are riding a motorcycle but feeling you're on a horseback riding adventure. I just love the air breezing on my cheeks. The decibels I hear from the motorcycle may be high but during decelerations, I can still hear chirping birds. During harvest time, I smell the aroma of golden palay.
The beauty of my present station is a first-hand commune with nature. Topographically, our school is beside a mountain. If you could just stand on top of that mountain, you'll figure it out that the community is enclosed by ricefield. The school is very near to a creek, leading to a river. Of course, if there is lizard or rat, there's a snake. They balance the ecosystem.
Bloom where you are planted, a good friend always tells me. She must be an avid reader of Bo Sanchez or Rick Warren. Alongside of this thought, a struggle can mean fulfillment too. It all depends on how one appreciates the ground where he/she moves.
I am a Multi-grade teacher. More than anything else, be it hard or easy, smooth-sailing or stormy, the fact that I swore to be a teacher, it is a noble act to accept who I am, be happy to what I do and just bloom where I am planted.
(The writer is teacher-in-charge at Magdalena Elementary School in Claveria East District, Division of Cagayan)