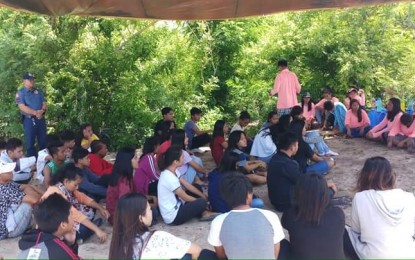 ANDA, Pangasinan -- Hundreds of young people joined the May 27-29 leadership youth camp that focused on anti-illegal drugs, anti-terrorism, and leadership training, which as hosted by the Anda Police Station - in coordination with the Sangguniang Kabataan (SK) here.
Capt. Santiago Baloco III, chief of police of Anda, underscored the need to develop the youth who would become the future leaders of the town.
"According to our national hero, the youths are the future of our country, and so we wanted to train them and prepare them for their future," he said in an interview Thursday,
Baloco said they lectured the campers on the effects of illegal drugs to the individual and the community.
"We focused on the preventive measures since the town is already declared drug-free," he said.
The police also urged the young people to scrutinize wisely the organizations they are joining, as part of the anti-terrorism lecture, he added.
Aside from lectures, team-building activities were conducted aimed at training the youths to obey rules and orders from their leaders.
"If they start obeying small rules, we believe they can also later on be able to obey the bigger laws of the land," Baloco explained.
The police also tapped the Bless our Cops Movement that gave spiritual enlightenment to the campers.
"We also tackled their spirituality, as we believe if a person fears and loves God, then he/she will not be led into illegal drugs or on terrorism and other irregular activities," he said.
The SK members were also tasked to propose projects, which would be implemented in their respective barangays.
"We hope to have good relationship with the SK members so we could continue doing the proposed projects with them," Baloco said.
The youth camp was held at the Chateau resort in Barangay Cabungan here. (PNA)