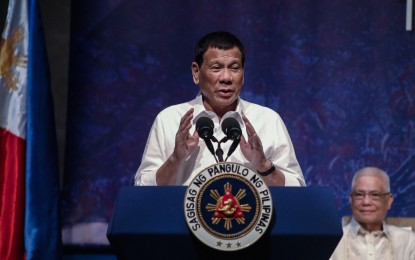 MANILA -- President Rodrigo R. Duterte on Thursday advised the Commission on Elections (Comelec) to let go of the services of Smartmatic in the country's automated elections.
"I would like to advise Comelec now --- hindi ko na lang hintayin (I'll just not wait for it) --- dispose of that Smartmatic and look for a new one that is free of fraud," Duterte said in his speech during his meeting with the Filipino community in Tokyo, Japan.
Duterte said allegations of cheating have been rampant from both sides of the political parties.
"Kasi ang Liberal (Party) sabi nila nadaya sila. Ako sabi nila nadaya rin (The Liberal Party said they were cheated. People also say I was cheated)," he said.
The President said the poll body has enough time to look for a new service provider since it has three years to prepare for the next automated elections.
"You know it's creating an environment of hostile attitude against that Smartmatic. You have three years. Kakatapos lang ng election (Elections have just concluded). Palitan na ninyo kasi (Replace it because) it is no longer acceptable to me, to the people, and even to the congressmen who are here," he said.
Duterte said the public has no more trust in Smartmatic.
"Iyong boto ng Pilipino hindi nabibilang nang totoo (The votes of the Filipinos are not counted accurately)," he said.
The President said he can only advise the Comelec because it is an independent Constitutional body.
"I am now asking you as a co-equal body. It's just promoting turmoil please do not use it," he said. (PNA)