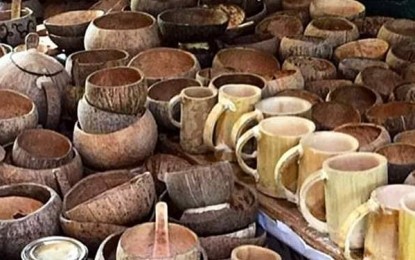 BACOLOD CITY -- Mugs made of bamboo, bowls from coconut shells, and plates from banana leaves.
These are the new utensils being used at the canteen of Bulata National High School (BNHS) in Cauayan, Negros Occidental as the school promotes a plastic-free culture in providing meals and snacks for its more than 400 students and teachers.
The concept is inspired by the "Wala Usik" Sari-Sari Store, an initiative of the Philippine Reef and Rainforest Conservation Foundation Inc. (PRRCFI) through its Sea Waste Education to Eradicate Plastic program or SWEEP.
"Wala Usik" is a Hiligaynon phrase which means "zero-waste" or "nothing-is-wasted".
BNHS principal Eiggy Duller Yap gained inspiration to make the school canteen plastic-free after attending the Danjugan Island's Marine and Wildlife Camp last summer.
Yap, who took over as school head starting this year, recognized the threat posed by plastic pollution to natural resources, noting that single-use plastic is often mismanaged and causes problems to the environment and public health among schools nationwide.
"Why not adopt this (Wala Usik) model and reduce plastic waste at source at the same time promote what's local. Imagine, if all school canteens in the Philippines become zero-waste," he said in a statement.
The BNHS "Wala Usik" canteen features walls painted with colorful marine life with the theme "More Fish, Not Plastic" done by volunteers from the Association of Negros Artists.
The wall pays homage to the rich biodiversity of Cauayan waters and the Danjugan Island Marine Reserve and Sanctuaries.
For now, Yap is seeking additional support from stakeholders to make the school canteen fully operational.
They need more chairs, tables and other equipment, he said.
The canteen will be managed by the school's Teachers' League Association, and will also be used for the school-based feeding program.
Dave Albao, executive director of PRRCFI, said they are honored to be a long-time partner of BNHS since conservation work involves experiential learning and community engagement.
"If more communities become conscious of how their waste is managed, they will see that the priority is how to reduce waste at the first place, especially plastic that threatens all life," he added.
In April, the PRRCFI also launched a "Wala Usik" sari-sari store in Barangay Bulata, which is one of the eight operating in Negros Island.
These stores are partners of PRRCFI in the project funded by the United States Agency for International Development (USAID) Municipal Waste Recycling Program. (PNA)