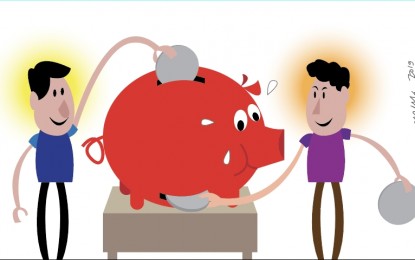 MANILA -- Charlatans peddling spurious investment schemes are aplenty in the Philippines, and so are people who insist on taking part in them because of the almost unbelievable returns on investment they promise.
However, there is a reason why authorities are trying to put a stop to Ponzi schemes and other "pyramiding" investment propositions.
A "Ponzi scheme" is a form of fraud where belief in the success of a nonexistent enterprise is fostered by the payment of quick returns to the first investors from money invested by later investors. It was named after Charles Ponzi, an infamous Italian-American swindler in early 20th century United States, whose promises of high returns on investments caused many investors to "lose their shirts."
In an interview, financial adviser and life coach Karla Stefan Singson explained why get-rich-quick schemes destroy the ideal mindset on investing and growing money.
"Sure, there are people who have tripled or quadrupled their money through schemes but that is not the way to build real wealth. Remember, even lottery winners end up broke," she said.
On June 10, the Securities and Exchange Commission (SEC) announced that it would file criminal complaints against officials of the Kapa Community Ministry International for an alleged investment scam that reportedly stands to defraud participants of as much as PHP50 billion.
Kapa, which stands for Kabus Padatuon (enrich the poor), registered as a religious group in Bislig City, Surigao del Sur on March 3, 2017.
Members were encouraged to "donate" at least PHP10,000 in exchange for a 30 percent monthly return, which they refer to as a "blessing" or "love gift" for life, without having to do anything other than invest and wait for the payout.
In 2017, Kapa's assets summed up to PHP465,000 with liabilities of PHP170,000. It had a total revenue of PHP425,000. In 2018, however, Kapa did not file any financial statement, according to the SEC.
Kapa needs at least PHP15 billion a month to pay its supposed 5 million members who have contributed at least PHP10,000.
Not helping the poor
The drive to be impatient, the loss of incentive for self-improvement, and greed are all by-products of the Ponzi scheme, she said.
"And if we are a poor country and this is what we teach or show people, we are hurting the poor more," Singson said, explaining the implications on the behavior of those who reaped the financial benefits of fraudulent schemes.
The financial coach went on to say that Kapa or similar organizations seduce people into thinking they do not need hard work or that that they do not need to be innovative or financially literate to make money.
"It always fails because it's not sustainable. Some of the world's biggest Ponzi schemes lasted more than a decade. The communities in those cities NEVER end up better off or with more wealth as an economy," she added.
In the years 1996 to 1997, Albania faced the same problem. The country was convulsed by the dramatic rise and collapse of several huge financial pyramid schemes.
It was so huge that the schemes' liabilities reached almost half of the country's Gross Domestic Product. About two-thirds of Albania's 3,148,000 population in 1997 participated in the investment and when the schemes collapsed, there was uncontained rioting, the government fell, and the country descended into anarchy and a near civil war in which some 2,000 people were killed.
"We should stop using poverty to justify joining Ponzi (schemes). Some people say it's someone's tuition, medicine, or rent. But then again, was it the only option? It is worse for them because when they lose it, they fall into depression, and regret," Singson said.
The National Bureau of Investigation (NBI) earlier said Filipinos should be thankful that they have a smart leader as it was President Rodrigo Duterte who ordered the shutdown of Kapa.
"Patuo sa ako kay abogado ko, Presidente ko ninyo. Ayaw sulod dira kay ilad na. If it is too good to be true, ayaw og sulod dira (Listen to me because I am a lawyer and I am your President. Do not invest your money in these investment schemes because these are scams. If it is too good to be true, don't invest on it)," Duterte said in his speech at the Barangay Lagao Gymnasium in General Santos City on Thursday afternoon.
How to report a scheme
In a social media post, the SEC reminded Filipinos to be wary of such fraudulent investment schemes.
Its advice to those who receive an offer with "too good to be true results": examine the background information -- the name of the person and the company making the offer; the address of both the person and the country; the phone number, especially the landline number (Do not accept cellular phone numbers, as the owner cannot be traced.); and the SEC registration as an investment taker.
They should also bear the following in mind:
* The SEC company registration does not grant authority to sell investment instruments, such as securities, bonds, commercial papers, or similar financial instruments;
* Only investment houses and financing companies with (quasi-banking) license and with SEC registered securities may offer to sell the same to more than 19 investors; and
* Only SEC registered persons (brokers/dealers/salesman) may offer or sell SEC registered securities to the public.
If they fail to come across these standards, they should immediately file a report with the enforcement and investor protection department at (02) 584-6337, and seek NBI or police assistance in case of an emergency situation. (PNA)