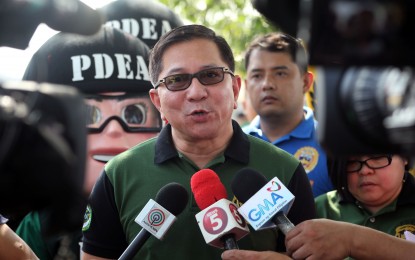 MANILA -- The Philippine Drug Enforcement Agency (PDEA) lauded the Kapisanan ng mga Brodkaster ng Pilipinas (KBP) over its decision to block the airing of the song of Shantie Dope titled "Amatz".
In a statement Saturday, PDEA Director General Aaron Aquino thanked KBP chairman Herman Z. Basbaño for the organization's move.
"We respect and appreciate our artists in the music industry. However, we strongly oppose the promotion of musical pieces or songs that encourage the recreational use of drugs like marijuana and shabu. It is contrary to our fight against illegal drugs," Aquino said.
He said airing songs that feature the use of illegal drugs as harmless could mislead the vulnerable youth and make them believe that it is all right to use illegal drugs.
"This runs contrary to the Duterte's administration's crusade against illegal drugs," he added.
In a circular dated June 4, the KBP reminded its members to observe the restrictions stated in Article 15 (Music), Section 4 of the Broadcast Code of the Philippines issued in 2007 and amended in 2011.
Under this code, "songs with lyrics or messages that are vulgar, indecent, promote substance abuse, gender discrimination, racism, Satanism, violence or sexual perversion, or demeans a member of any sector of society shall not be played."
The circular was issued in response to PDEA's letter-complaint dated May 29 regarding the live performances of Shanti Dope rendering the song "Amatz" in Umaga Kay Ganda and ASAP, both programs of ABS-CBN, on March 27 and May 19, respectively.
The letter has already been endorsed to the KBP Standard Authority, the organization's body empowered to hear and adjudicate complaints of possible violations of the KBP Broadcast Code.
The PDEA chief said the lyrics of the song, "Ito hinangad ko; lipadin ay mataas pa sa kayang ipadama sayo ng gramo, di bale ng musika ikamatay," promotes the use of marijuana.
"It appears that the singer was referring to the high effect of marijuana, being in its natural/organic state and not altered by any chemical compound," Aquino explained.
The KBP is a non-government, non-profit organization of the broadcast media in the Philippines. It promotes an independent and free broadcast media, responsible broadcasting, enhanced public service by broadcasters, advancement of innovation in broadcasting, and the development of Philippine broadcasting.
It has 121 members composed of owners and operators of radio and television stations, including the radio and television stations themselves, all over the country.
In a letter dated May 20, PDEA also requested the Movie and Television Review and Classification Board, Organisasyon ng Pilipinong Mang-aawit (OPM), and ABS-CBN Corp. to prevent the airing and promotion of "Amatz" in media stations nationwide.
PDEA also sent a letter-complaint to the National Telecommunications Commission (NTC) dated May 29 recommending that "Amatz" and songs of the same nature should not be played on the airwaves and other forms of media.
NTC is an attached agency of the Department of Information and Communications Technology that is responsible for the supervision, adjudication and control over all telecommunications services in the country. (PNA)