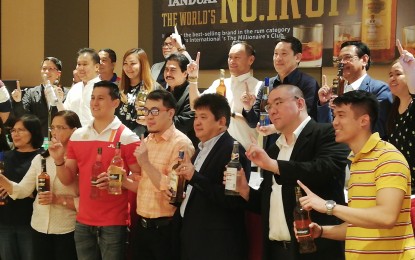 MANILA -- Tanduay, a 165-year-old Filipino brand, remains number one in the rum category for two years now following the latest reports from Drinks International.
In a press briefing on Saturday, Lucio Tan Jr., president and chief operating officer of Tanduay Distillers, Inc., said the title is a milestone not only for their company but also for the Philippines.
"Last year, we announced that Tanduay is the World's Number One Rum, aiming for the top to battle the industry's global giants was difficult, especially for an Asian brand. Pero hindi pala doon natatapos ang laban, mas matindi pala kapag nasa taas (But the battle doesn't stop there, it's more difficult when you're up there) because the challenge was to remain on top," Tan said in his speech.
Drinks International is a global spirits market organization which rewards the greatest drinks in different categories. It releases annual industry updates and rankings of brands that record volumes of a million 9-litre cases or above the previous year.
This month, it has released its World's Million-Case Spirits Brands for 2019 Rankings which showed Tanduay with additional three million cases in 2019, leaving Bacardi at the second spot.
For his part, Paul Lim, chief marketing officer of Tanduay, said their company embarked on an "aggressive marketing plan and an intensive dealer retention plan" three years ago.
"The company increased its market presence abroad by expanding its distribution networks in the United States (US), Middle East, Europe and soon here in Asia, starting with a distribution deal for Singapore this July," Lim said.
In an interview with the Philippine News Agency (PNA), Lim explained Tanduay has adjusted "in every area to meet the rules of liquor of every country their rum products have reached".
"We had to meet the requirements, observing their restrictions. So, we made adjustments on the rum's taste, labels, because the liquid profile here in the Philippines won't be necessarily approved in China and the US, and in the US, every state has regulations," he said.
For Tanduay rum to be more competitive in Singapore, Lim said they have adjusted their product's packaging from 750 ml to 700 ml "because all their competitors are packaged in such manner with consideration to excise tax".
"In the US, we positioned Tanduay on the premium segment, unlike here in the country where our product is in the mainstream. From the consumers' standpoint, kahit hindi sila umiinom (even if they don't drink) they would really love to see a Philippine product that is growing globally and being patronized by consumers abroad," he added.
Meanwhile, Gerry Tee, overall head of Distilleries Operations of Lucio Tan Group of Companies, said Tanduay Distillers, Inc. is adopting more efficient technologies to decrease its dependence on nature.
"Our industry, the distilleries is one of the most resource intensive industries which require huge amount of water and energy, two of the most utilized resources of industrialized in developing economies. So, we have put up our own dehydrator to lessen our dependence on fresh water, we have also installed solar panels on our warehouses to have renewable energy for our operations," Tee added. (PNA)