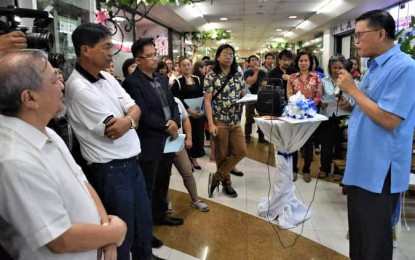 BAGUIO CITY-- Land Transportation Office (LTO) chief Edgar Galvante said Thursday the 10-year validity of driver's licenses will only be enjoyed by motorists who follow traffic laws as "demerits" can cause its revocation and suspension.
"From the one-year validity of the license, we made it three years. Now, we made it five and so it would be 10 [years] so that you don't have to come back every five years but rather, 10. You have to come back only once every 10 years for you to renew your license but that is if you are not delinquent meaning, you do not have violations," Galvante told the Philippine News Agency (PNA).
He said the license can be revoked any time if the driver has accumulated several traffic violations.
President Rodrigo Duterte ordered the LTO to extend the validity of drivers' license to 10 years for the public's convenience.
On Tuesday, Galvante and officials of the LTO-Cordillera Administrative Region (LTO-CAR) led the formal opening of student permit and drivers' license renewal center in a mall on Session Road.
The center is complementary to the LTO-Baguio office in Barangay Pacdal, some four kilometers away from the central business district.
Galvante said motorists who want to renew their licenses can proceed to the center.
He said even if the driver's license is still valid, it can be invalidated for incurring demerits and the driver will be suspended or barred from driving a motor vehicle during the suspension period.
"It will be confiscated. You will be suspended and you will have to serve the suspension before you can get it back," Galvante said.
He said on the 10th year when the license will be renewed and the LTO sees that the driver has incurred several demerits, its validity will only be for five years or less.
Galvante said such sanctions have been placed to instill discipline among the drivers who are given the privilege of handling a motor vehicle. (With reports from Argielynne Gem Ramos, OJT/ PNA)