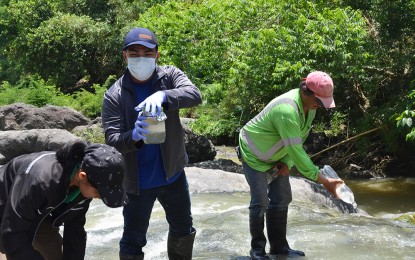 CITY OF MALOLOS, Bulacan — The Department of Environment and Natural Resources (DENR) on Friday led the inspection of an engineered sanitary landfill in Norzagaray town, this province following reports of alleged violation of environmental laws.
Tirso Parian Jr., DENR assistant regional director for Central Luzon, said the inspection was conducted in response to the growing clamor of residents and stakeholders to resolve the mounting garbage problem in the province.
He said they held a meeting Thursday with Governor Wilhelmino Sy- Alvarado, representatives from the local government units (LGUs) of Norzagaray and City of San Jose Del Monte, Department of the Interior and Local Government (DILG)-Bulacan, and the Wacuman Sanitary Landfill to discuss the waste problem.
"It was found out during the meeting that the Wacuman Sanitary Landfill in Norzagaray town is located in Sitio Tiyakad, Barangay San Mateo in Norzagaray town that has a boundary dispute with the City of San Jose del Monte," Parian said.
During the meeting, officials of the City of San Jose Del Monte said that the sanitary landfill violates environmental laws, causing pollution of the river system brought about by its effluents spilling through the city's waterways, he noted.
"To settle the environmental issues, representatives from the said group decided to conduct inspection on the alleged environmental violations," Parian said.
The DENR official said they also took samples of the water downstream, midstream and upper stream of the waterways located below the sanitary landfill to determine if it is contaminated with effluents from the sanitary landfill.
The garbage problem in Bulacan worsened when the only road leading to the sanitary landfill in Barangay Paradise in the City of San Jose Del Monte was closed due to severe damage last May 24.
This forced the 15 LGUs and other private entities to look for alternate sanitary landfills outside Bulacan that are more expensive to maintain due to higher transport and dumping fees.
It was also learned during the meeting that the local government unit of Norzagaray has denied issuing a business permit to Wacuman Sanitary Landfill despite the issuance of the environmental clearance certificate by the DENR and that a legal case is now being resolved in court.
Darwin David, provincial director of DILG-Bulacan, pointed out that the construction of the Wacuman Sanitary Landfill is based on a special law, specifically Presidential Proclamation 1655.
The said law "declaring the sanitary landfill disposal facility located in Sitio Tiyakad, Barangay San Mateo, Norzagaray, Bulacan, as an alternative waste disposal facility of the municipalities and cities of Bulacan, Metro Manila, and nearby areas" was signed on October 28, 2008 by then President Gloria Macapagal Arroyo.
Section 3 of the said law states that "the Department of Public Works and Highways shall supervise the maintenance of public roads in the vicinity of the sanitary landfill to facilitate the smooth operation and delivery of waste disposal services," David said. (PNA)