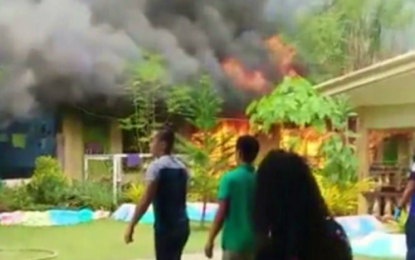 KIDAPAWAN CITY -- Investigators are still determining the cause of a fire that gutted down a two-classroom building inside a public elementary school here Friday afternoon.
Kidapawan City Schools Division Supt. Romelito Flores said the school building of the Isidoro Lonzaga Memorial Elementary School (ILMES) in Barangay Magsaysay, Kidapawan City was hit by fire at 4 p.m.
"The damaged school building is for Grades 4 and 5," Flores told reporters here after the fire.
Prior to the blaze, the teachers and students noticed a spark at the ceiling of the classrooms.
"Everybody was already out of the building when the fire broke out," Flores said, adding that firefighters declared fire out at about 5 p.m.
Starting next week, he said the affected students will use the school's gymnasium as a temporary classroom.
"Classrooms might be burned down but our desire to teach as teachers remains," Flores said during a meeting on the same day with other Kidapawan school division and ILMES officials.
Flores also announced that each school within the Kidapawan City School District agreed to donate one or two plastic armchairs to be used by the affected Grades 4 and 5 pupils on Monday.
On April 3, a fire also hit the Datu Dalandag – Pikit National High School Annex building in Pikit, North Cotabato hours before the school's graduation ceremony.
On June 6, a fire broke out at a building of the Pageda Elementary School in neighboring Talitay, Maguindanao, damaging four classrooms. (PNA)
-----------

BURNING. Flames raze the two-classroom building of the Isidoro Lonzaga Memorial Elementary School in Barangay Magsaysay, Kidapawan City on Friday (June 21, 2019). Investigators have yet to determine the cause of the fire. (Photo courtesy of the ILMES faculty)