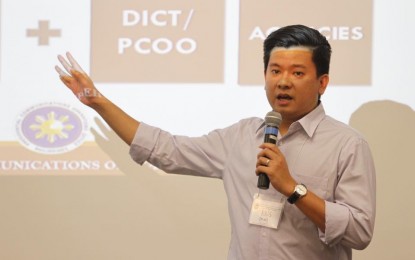 MANILA -- Effective record management system is the key to the successful implementation of the government's Freedom of Information (FOI) program, an official of the Presidential Communications Operations Office (PCOO) said on Wednesday.
"You can only have a successful FOI program if the agency has the information kasi kung kalat-kalat at mano-mano ang information niyan at hindi nila alam kung saan kukunin (if your information are scattered and obtained manually, and you don't know where to get them) the FOI program will be a failure," PCOO Assistant Secretary Kris Ablan told Philippine News Agency (PNA) in an interview on the sidelines of the 2019 FOI Mid-Year Conference.
FOI is the government's response to the call for transparency or Executive Order No. 2 signed in 2016 by President Rodrigo Duterte.
Andro Santiago, chief of Stakeholders Affairs of the Department of Public Works and Highways (DPWH), said their agency is in full support of the program but there are challenges which keep them from responding to information requests in a quick manner.
"We have 186 district engineering offices and 19 regional offices and all these have deeds and awards committee, so, how many projects do you think they bid out every year? There are many data handlers plus our request system is centralized, you'll need to submit the request to the central office first before it gets processed," Santiago said.
He also said only the receiving officers and decision-makers in their agency were trained on proper FOI requests handling.
"Actually, dapat lahat ng DPWH employees alam ang (all DPWH employees should be knowledgeable of) FOI process so they would know right away what must be done and the process," he added.
Santiago said they have drafted a plan on the creation of an FOI committee which will create the guidelines on proposed FOI policies.
"Through this, we can also police our offices at the district and regional level," he added.
Meanwhile, lawyer Ann Marie Nemenzo, officer in charge - Executive Director of Movie and Television Review and Classification Board (MTRCB) said their agency has no problem with the communication of FOI requests "because they are a small agency compared to DPWH".
"MTRCB is transparent with all the information and we recently had our IT (information technology) improvement and all the information the public needs are provided for in our website," Nemenzo said.
Citing that their agency has transferred offices since 1985, she said "they have lost some data or information along the way".
"There are some researchers needing information about movie permits in 1985 or 1990, we don't have records of them anymore. We're working on archiving so we can better help students of film making courses and other FOI requesters," she added.
Ablan stressed that the National Archives of the Philippines (NAP) has the mandate for proper records management.
"We're requesting NAP to release proper digital records management system to fully implement the National Archives Law. Kinausap din namin ang DBM (Department of Budget and Management) na tulungan ang NAP para ma-address natin ang (We've also asked the DBM to help NAP so we can address the) concern ng records management system," he said.
Since there are no government guidelines on digital records management, Ablan said government agencies observe different data storage strategies.
"Some agencies store them in doc files, some send them in the cloud, no uniform guidelines, but once you have the guidelines, you at least know the steps you need to take on how to preserve your documents," he said.
"There's is already a proposal on this which was submitted early this year, there had been a discussion with NAP the digital records management draft," he added.
While the guidelines could make the data or information storage clearer, Ablan said the public cannot expect the immediate implementation of the digital records in all government agencies.
"There will be an issue of scale for different agencies, small agencies like MTRCB can work on this a little faster but for agencies as big as DPWH, aabutin iyan ng maraming taon (that will take many years) because we're talking about thousands of records," he said. (PNA)