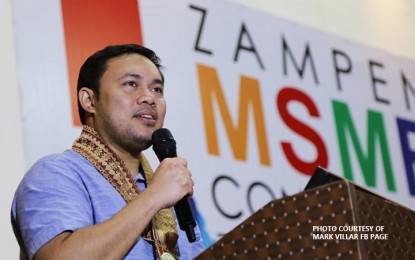 MANILA — Department of Public Works and Highways (DPWH) Secretary Mark Villar said on Monday the construction of the PHP4.2-billion Binondo-Intramuros Bridge is ongoing.
"The construction is ongoing. We've been consistently coordinating with the NCCA (National Commission for Culture and the Arts) to address all the issues," Villar in a media interview.
Villar also reported that the project is now 10 percent complete after the groundbreaking in July 2018.
"We are looking at 2021 to finish it," the DPWH chief added.
Villar admitted that there were changes made and they will make an adjustment if they can still afford it.
"The NCCA has given their approval to the project. There were some changes to accommodate, in terms of where to lower the bridge going to Binondo but those are some in coordination for traffic," he said.
He said they are also looking at upgrading and improving some structures and places in the immediate vicinity.
"The Intramuros side is more or less the same but we will be upgrading, some projects to improve the immediate area -- the National Archive building, we want to rebuild it, at the same time, we also want to upgrade the Plaza Mexico. We will be improving the area," he said.
The 710 linear-meter Binondo-Intramuros Bridge project connects Intramuros at Solana Street and Riverside Drive and Binondo at San Fernando bridge with a viaduct structure over Estero de Binondo.
The China Grant-Aid Bridge is financed by the People's Republic of China through bilateral cooperation with the Republic of the Philippines.
Earlier, reports said the proposed bridge may cause the delisting of San Agustin Church and three other Churches from the list of United Nations Educational, Scientific and Cultural Organization (UNESCO) World Heritage Sites.
This after the UNESCO warned that the structure may encroach on the buffer zone prescribed for the San Agustin Church located in Intramuros, Manila.
The NCCA is the site manager for the church of San Agustin and other Baroque churches in the country which are included in the UNESCO World Heritage List. (PNA)