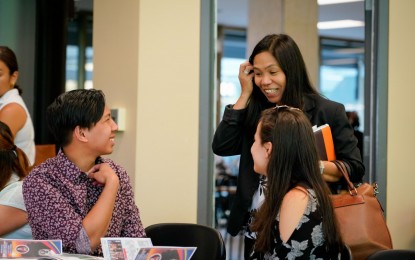 NEW YORK CITY — In a sea of news agenda hugely dominated by the mainstream media, stories like the struggles of indigenous people's (IP) communities in conflict-torn Mindanao get drowned in the narrative.
That's why for Filipino-American (Fil-Am) student Roderick Perez, president of the Filipino-American student club in Fordham University, hearing the stories of sufferings endured by tribal leaders, in a conference here on Wednesday, was an eye-opener, something the Filipino diaspora here has never heard about.
"We only hear everything else coming from the mainstream media, and all these other outlets. But when it comes from first-hand sources just like them, it really provides a different perspective on all information that I didn't know before," he said, after listening to the stories of tribal leaders who were in New York to inform the international community about the atrocities and human rights abuses committed by communist rebels against IP communities back home.
"It's really good as a Filipino-American student to expose myself to what they have to say because it was very informative and i learned a lot more about the indigenous Filipinos," added Perez, a senior marketing student.
Engage Fil-Am youths
Meanwhile, Fil-Am junior economics major Carsyn Fisher, said the tribal leaders' visit served as an "opportunity to learn about their experiences and their struggles, and the violence in their communities."
Fisher said as a huge community in New York, Fil-Am youth organizations should start engaging themselves on discussions about the plight of IP communities in the Philippines.
"As students, we really have an important voice, especially in New York. In the tri-state area, the collegiate Filipino community is so strong here, and this opens a lot of opportunities for us to educate each other, not only within our universities, but also in the greater young Filipino community in New York," she said.
For his part, Perez said given the lack of media coverage on this type of issue, Fil-Am youth organizations here should take an active role in raising the discourse on the true stories in the tribal communities.
"We could help through dialogue in communities, inter-collegiate conversations between all these universities, because there's a lot of stuff going on that's hard to cover because of lack of media coverage on these types of issues," he said.
Radicalization
During their visit in Fordham, the tribal leaders rallied the student community to help disseminate their stories in America — how members of the Communist Party of the Philippines-New People's Army-National Democratic Front (CPP-NPA-NDF) try to control and manage their ancestral domains, killing tribal chieftains who would go against their will.
Datu Jacob Lanes, who was once a cadre of the NPA, the CPP's armed wing, said he was assigned to organize different sectors in Southern Mindanao to rally against government.
"I have seen so much death and destructions. This is not the way of indigenous peoples just like the other indigenous people in the world. We are a peaceful people, our culture requires it," he said.
Meanwhile, Joel Dahusay, IP teacher and community organizer, shared how the Salugpungan school served as a venue of the Reds to deceive and corrupt the IP culture, saying it has "radicalized the young children" in Mindanao.
"After I graduated in public school, I noticed that the Salugpungan school did not follow the Department of Education's curriculum, it became a school of deception among the youth, teaching them to become activists," he said.
Presidential Communications Operations Office Undersecretary Lorraine Marie Badoy said the youth should be more discerning in joining school organizations, saying leftist groups have been using academic institutions as a recruitment ground for future rebels.
"They're very vulnerable because when you're young, you're very idealistic. That's fertile ground for brainwashing," she said.
"The academe is a world of ideas, and this is where the CPP-NPA (tries to get in). The academe is a fertile ground for radicalization. If you love your country, don't stay in the world of ideas, go beyond. Don't join organizations that will leave you astray," Badoy added.
The tribal leaders are making their way across the United States — from New York to Chicago, California and Washington DC — to call on the international community to hear their plight back home.
The CPP-NPA is listed as a terrorist organization by the United States, European Union, United Kingdom, Australia, Canada, New Zealand, and the Philippines. (PNA)