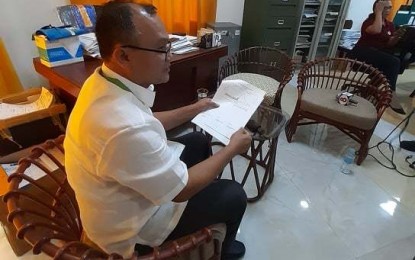 SAN JOSE DE BUENAVISTA, Antique – The Integrated Provincial Health Office (IPHO) is pushing for the declaration of a state of health emergency in this province due to the prevalence of dengue.
Dr. Ric Noel Naciongayo, IPHO chief, said in an interview on Monday that he discussed the proposal with acting Governor Edgar Denosta during their meeting with heads of offices, as he cited that the province already has 476 dengue cases with five deaths from January to July 7.
The number is 55 percent higher compared with the 308 cases and three casualties during the same period last year.
"I am asking if the province could be declared under the state of health emergency as soon as possible," Naciongayo said.
He said Board Member Dr. Mayella Plameras-Ladislao, chairperson of the Committee on Health, is very supportive of the move, considering the number of cases.
"We need to have additional monetary resources to purchase intravenous (IV) fluids, tubings and other medical supplies," Naciongayo said.
He said the needed amount can be sourced from the Quick Response Fund (QRF) of the Provincial Disaster Risk Reduction and Management Office (PDRRMO).
However, he still has no figure as to how much fund is needed to be able to properly respond to the medical needs of dengue patients.
"We discovered that most of the cases of the dengue patients who died were because of the late medical treatment," he said.
He quoted Ladislao as saying that the reason some patients were not immediately brought to the hospital was financial constraints.
The Provincial Disaster Risk Reduction and Management Council chaired by Antique Governor Rhodora Cadiao will meet to discuss the state of emergency declaration this Wednesday. (PNA)