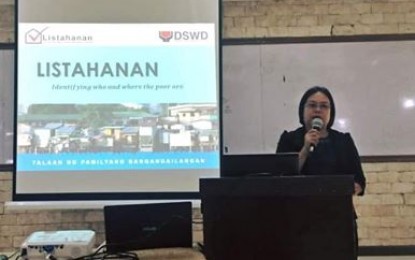 ILOILO CITY -- The Department of Social Welfare and Development (DSWD) in Western Visayas (Region 6) will hire around 3,000 workers to assess households for the third round of the Listahanan Program.
Listahanan aims to identify poor households that will be given priorities in government programs, Fe Gencianeo, DSWD 6's regional field coordinator on Listahanan said on Tuesday.
"For Listahanan 3, we target to assess a total of 1,392,085 households all over the region," Gencianeo said.
The DSWD 6 will need 1,993 enumerators, 387 area supervisors, 78 area coordinators, 387 encoders, 387 verifiers, and three encoder supervisors.
Gencianeo said the DSWD national office has given the region the authority to hire on Friday.
Prior to their receipt of such authority, the DSWD 6 has already communicated with the local government units that they will need Listahanan workers.
"Now, we are working with our communication to the LGUs that we already have the authority to hire. We will inform them of the corresponding enumerators we will need from their municipality because enumerators should be local-based," she said.
Gencianeo said job seekers should prepare their resume and application for submission if they wish to work with the Listahanan program.
Applicants should also prepare their credentials and certification that they completed senior high school and at least two years of college education, she said.
Officials have yet to set the start of the assessment as they will focus first on the hiring of their workers.
The households, on the other hand, are encouraged to take part in the assessment.
She said the field staff will coordinate with the LGUs and the village officials on the schedule of Listahanan in their area.
"They should be aware of the schedule and make sure that their household will be represented once our staff will do their assessment," she said.
The Listahanan assessment is being done house-to-house as the DSWD staff has to see the actual household situation.
Households who will fail to have a representative on the assessment will be called by the DSWD three times.
"On the third time that our staff will go back, and they still fail to be represented, they will not be included in the assessment," she said.
She said the assessment and encoding on the Listahanan program will be completed this year. "Next year, the DSWD will be validating and finalizing the data," she said.
The data from the Listahanan is also used by the Philippine Health Insurance Corp. (PhilHealth), Department of Health, Department of Labor and Employment, and Commission on Higher Education for their poverty reduction programs, she added. (PNA)