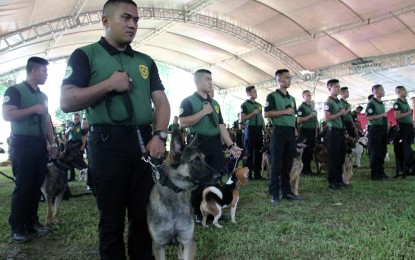 MANILA -- To enhance its operational capability in line with the national anti-drug campaign, the Philippine Drug Enforcement Agency (PDEA) on Wednesday welcomed 100 new K9 handlers and their partner drug-sniffing dogs as the newest members of its K9 interdiction unit.
PDEA Director General Aaron N. Aquino said man-and-dog teams belonging to PDEA K9 Handlers' Basic Course 2018-14 Class "Nagtalad" which stands for "Nagsanib na Tao at Aso Laban sa Droga" has graduated at Zemog K9 Training Center, Sitio Puting Bato, Inarawan, Antipolo City.
Aquino said the 100 newly-recruited PDEA K9 handlers and their newly-acquired narcotic detection dogs (NDDs) partners have undergone six months of intensive training to prepare them to provide support in anti-illegal drug operations.
The PDEA chief said the training included familiarization with substances subject for detection, understanding of K9 behavior, dog's drive development, substance printing, indication to improve the dog's ability to distinguish scents of illegal drugs, and scent discrimination to develop the dog's ability to differentiate odors of illicit substances, among others.
He said the newly minted man-dog teams will bolster PDEA's monitoring and interdiction capabilities in the country's airports and seaports, sweeping searches on baggage, cargoes and parcels, events monitoring, greyhound operations in jails and custodial facilities, and detection of New Psychoactive Substances being rampantly used as party drugs.
"These new K9 handlers and NDDs will be deployed to the different PDEA Regional Offices and Seaport Interdiction Units nationwide. Overall, PDEA K9 Unit has a total of 171 NDDs, while 37 retired hero dogs were adopted by their new families. Four NDDs were selected for the breeding program," Aquino told reporters.
The newly-trained dogs were also spayed and neutered prior to deployment to prevent unwanted breeding.
"The superior sense of smell of dogs, which is a thousand times stronger than humans, makes them a valuable tool in the detection of concealed illegal drugs. The dog's natural capability, when properly trained and assisted by their handlers, continues to be an invaluable asset in the ongoing war against illegal drugs," he added.
On top of the procurement of 100 NDDs worth PHP42.5 million, thanks to congressional insertions in the 2018 budget, PDEA is set to purchase an additional 100 NDDs in 2019.
Under Aquino as PDEA chief, the latest batch of K9 training made PDEA history as it is the most extensive single procurement of new NDDs and by far the largest recruitment and training of K9 handlers in a single training course setting.
The PDEA K9 facility, which is situated in a 5,000-square meter lot in the City of San Jose del Monte, Bulacan, is currently in the final stages of a PHP21.3 million major facelift.
"Once the rehabilitation is completed, the K9 facility is envisioned to be the premiere hub for breeding and training of all drug-sniffing dogs and their handlers intended for drug law enforcement agencies in the Philippines," the PDEA chief said.
In July 2018, PDEA launched the Standard Operating Procedures on Management of the NDDs and Preventive Medicines Program for K9 to institutionalize and enhance the supervision and handling of PDEA K9. (PNA)