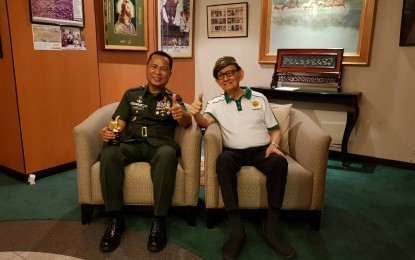 MANILA -- Former President Fidel V. Ramos has lauded President Rodrigo R. Duterte for appointing Lt. Gen. Cirilito E. Sobejana as the new commanding general of the Western Mindanao Command (Westmincom), citing the army officer's credentials as a battle-tested officer whom he awarded the Medal of Valor in 1996.
The Medal of Valor is the highest award of the Armed Forces of the Philippines (AFP) given to a soldier for gallantry in combat.
Duterte promoted Sobejana as Westmincom commander last week.
Sobejana was formerly commander of the 6th Division of the Philippine Army based in Central Mindanao.
Sobejana made a courtesy call on Ramos at the latter's Ramos Peace and Development Foundation, Inc. (RPDev) office in Makati City on Tuesday, to thank the former Commander-in-Chief, who pinned the Medal of Valor during the 61st AFP anniversary held in Camp Aguinaldo, Quezon City on Dec. 21, 1996.
Ramos, or FVR as he is fondly called, vividly remembered the day he pinned the medal on Sobejana, who was then an army captain at that time.
"You are a hero," Ramos told Sobejana, who now holds the rank of lieutenant general.
When he saw Ramos, Sobejana made a snappy salute which FVR acknowledged and congratulated the army general for a job well done in defending the country against terror groups.
Sobejana got the highest military award for leading a 16-man team of Scout Rangers of the Philippine Army when they encountered more than 150 fully armed Abu Sayyaf terrorists in Sitio Sweet Jackal in the town of Matarling, Basilan on the Friday the 13th of January 1995.
At the height of the close-quarter battle, Sobejana was badly wounded on his right arm, but he and his men continued the fight without retreating.
In an interview with the Philippine News Agency, Sobejana said seven of his men were killed in action.
"But the remaining nine of us, all wounded, continued the fighting without let-up. I had with me an M-16 Baby Armalite assault rifle, and I gathered five other firearms left behind by men who were killed near me. I also had 300 rounds of ammunition," Sobejana recalled.
"When my right hand was hit, the pain was excruciating. I could hear bullets buzzing just a few inches from where I was lying down. Mortar shells and rockets fell all over," he said.
With a wounded right hand, he used his left hand to fire his weapon at several Abu Sayyaf militants, who tried to advance towards their defensive line, "but we fired at the terrorists, who were killed one after the other".
"With our heavy volume of fire, the Abu Sayyaf thought we were many," he said.
"I glanced at my watch; it was 1430H (2:30 p. m.). My men and I continued fighting and firing at the enemy. I was again hit. This time, it was my right hand," Sobejana added.
"I applied a tourniquet to stop the bleeding (then) I saw one of my men get hit in the abdomen. His intestines came out and we bandaged him," he said.
During the gun battle, 42 Abu Sayyaf members were killed, and the wounded were brought along by the terrorist group in their retreat.
On Scout Rangers' side, seven were killed and all the remaining nine, including Sobejana, were wounded.
Sobejana also thanked FVR for sending him to the United States for medical treatment for his severely shattered right arm to save it from being cut-off.
It was then-Defense Secretary Renato S. de Villa, who recommended to then-President Ramos to send Sobejana to the U.S. for further treatment of his badly wounded right arm.
Today, Sobejana has his right arm intact, but the marks of the bullet wound are visible.
Nonetheless, Sobejana is proud as a soldier who defended the country to preserve the republic at all cost, including his life if need be. (PNA)