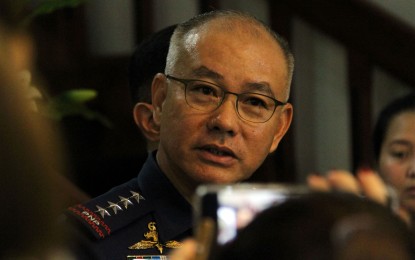 MANILA -- The Philippine National Police (PNP) on Thursday cited the need for lawmakers to understand the need to support measures that will enhance its capability to secure the country against the threat of terrorism.
PNP chief Oscar Albayalde made the remark after President Rodrigo Duterte asked the police and the military to be prepared for "dangerous times ahead".
Citing the case of the first suicide bombing perpetrated by a Filipino in Sulu last June 28, the PNP chief said he has earlier warned Congress to prepare for these situations.
"I have been telling that to Congress that we really have to prepare for this. I think no less than the President said that there are dangerous times ahead it's because he foresees these kinds of global terrorism will not end in few years time," Albayalde told reporters on the sidelines of a gun show in Mandaluyong City.
"Unang-una definitely, the playing field will evolve. I think the more that we should get serious on this, not only the AFP (Armed Forces of the Philippines) and PNP but also the whole government. There is a need to intensify this campaign, especially our counter-terrorism efforts)," he added.
The country's top cop said certain measures to improve the country's response to terrorism is up for Congress to act on.
"We need a lot of equipment and even the laws, these need to be amended for it to be applicable to the present situation. There is need to amend especially the Human Security Act and the (National) ID system. There are various surveillance equipment. Many are offering that we really have to determine what do we need," Albayalde said.
Albayalde said the PNP and AFP could not afford yet to improve on its surveillance capabilities because it is costly, for "political reasons" and because of the law which protects the people's privacy.
Once amended, the country's top cop said the Human Security Act could also boost the law enforcer's surveillance capability and anti-terrorism and insurgency operations.
Since Duterte's assumption in 2016, the PNP has been provided with not just operational requirements but also morale and welfare services, which have improved living standards of uniformed personnel and their families.
"Over the last three years, the PNP has been able to keep up with our modernization and development plan with the procurement of more and better equipment and recruitment of more personnel," PNP spokesperson, Col. Bernard Banac said.
"Between now and three years hence, the PNP is in a better position to perform its law enforcement and public safety mandate thru enhanced operational capability," he added.
The June 28 incident is the third of its kind in Mindanao with the first in a military checkpoint in Lamitan, Basilan on July 31, 2018, killing 10 people.
The second was in a cathedral in Jolo, Sulu which killed 20 persons, including the alleged suicide bombers, last January 27. (PNA)