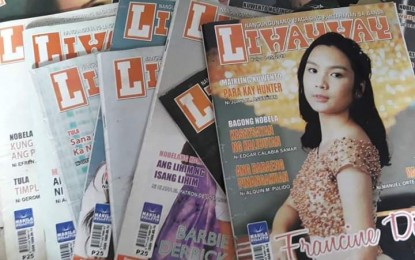 MANILA -- Three years before it marks its centennial in 2022, the country's leading and oldest national language magazine Liwayway has changed its frequency to fortnightly from weekly.
Its first fortnightly issue, dated July 1-15, 2019, was priced at PhP40. The cost reflected an increase of PhP15 from the PhP25 shown on the cover of the last weekly issue dated June 24, 2019.
Currently owned by the Manila Bulletin Publishing Corp., Liwayway circulates 90,000 copies, distributed in Metro Manila, key cities, provinces and towns all over the country through the company's extensive distribution network.
According to the magazine's editorial box, "Liwayway started as a photo magazine in 1922, and after broadening its editorial scope, saw a collection of lifestyle and cultural articles, not to mention a veritable display of literary masterpieces. Works from some of the nation's most beloved literary treasures have seen print in Liwayway."
In a pre-centennial article published on June 17, 2019, three years before the centenary celebration, Dr. Efren R. Abueg, one of the magazine's top novelists and feature writers at present, traced Liwayway's modest beginning 97 years ago.
Abueg wrote that the first three issues of Photo News, the original name of Liwayway, came out fortnightly: on June 15, June 30, and July 15, 1922. After a few more issues, the publication of Photo News was stopped, and when it came out again on Nov. 18, 1922, its editorial said: "Magiging Liwayway na ang Photo News. Pinili namin ang Liwayway sa pag-asang ito ay magiging simula ng isang bagong buhay at bagong kasiglahan na tulad sa ating nadarama sa pagsikat nito sa madaling araw" (Photo News is now renamed Liwayway. We have chosen Liwayway with the hope that it will signal new life and beginning, like what we feel at the coming of dawn).
That Nov. 18, 1922 issue carried for the first time the name of its publisher and first editor: Don Ramon P. Roces, considered as the "Godfather of Philippine Traditional Komiks." Together with Roces in the initial editorial staff of Liwayway were poet and novelist/short story writer Deogracias Rosario and Fausto Galauran, then still a medical student who later became one of the most popular Tagalog novelists.
According to Abueg, Photo News or Liwayway was first published at a small office in Carriedo St., Quiapo, Manila. The publication was transferred on July 6, 1928 to Calero St., in Sta. Cruz. In 1938, it was transferred again, now to the Roces Building at 1655 Soler St. in Sta. Cruz, Manila just a few steps from its Calero St. location.
After Liwayway magazine was acquired from the Roces family by the Manila Bulletin Publishing Corp. in 1965, its publication was moved to Pasong Tamo St. (now Chino Roces Ave.) in Makati City, before it settled finally to its present home at the Manila Bulletin building in Intramuros.
According to Abueg, the Nov. 25, 1922 issue of the weekly Liwayway consisted of 24 pages and cost 10 centavos. It had in its editorial staff, aside from the editor and publisher (Roces), the names Severino Reyes, Deogracias Rosario, Cirio Panganiban, and Tomas de Jesus.
The Japanese occupation of the Philippines in 1941 disrupted Liwayway's publication. Japanese officials took over the magazine by force and continued its publication irregularly under the management of the Manila Shimbun.
When it resumed publication on April 27, 1945, Liwayway came out in a smaller size and fewer pages of 32. It was sold at 30 centavos, compared to 12 centavos before the war. It returned to its regular size on July 23, 1945.
Aside from Roces, the 11 past editors of Liwayway from 1922 to early years of the present century were: Severino Reyes, Jose Esperanza Cruz, Pedrito Reyes, Catalino V. Flores, Jose Domingo Karasig, Gervacio Santiago, Bienvenido Ramos, Rodolfo Salandanan, Reynaldo Duque, and Angie Perez.
Its 12th and present editor is Perry C. Mangilaya, a multilingual and award-winning writer from Aklan who joined the Liwayway editorial staff in 2000.
Aside from the Manila Bulletin and Liwayway magazine, the Manila Bulletin Publishing Corp. is also the publisher of the Bannawag, Bisaya, Hiligaynon, Philippine Panorama, Tempo, Balita, Monthly Agriculture, Going Places, and Animal Scene.
The present publisher and editor-in-chief of all publications of the Manila Bulletin Publishing Corp. is Dr. Cris J. Icban Jr., a former Press Secretary during the term of President Gloria Macapagal-Arroyo. (PNA)