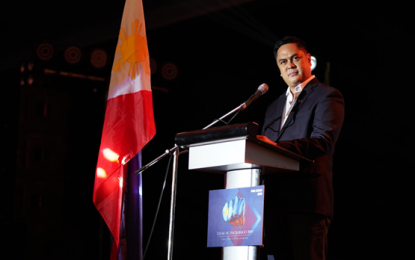 LANANG, DAVAO CITY – The third and final installment of the forum, leading to President Rodrigo Roa Duterte's 4th State of the Nation Address (SONA), marks the stark changes made by the administration, Presidential Communications Operations Office (PCOO) Secretary Martin Andanar said.
Andanar moderated the Mindanao leg of Tatak ng Pagbabago 2019: Pre-SONA Forum held at the SMX Convention Center on July 17 here.
With the theme: Patuloy na Katatagan, the forum highlights the accomplishments on Climate Change Adaptation, Mitigation, and Disaster Risk Reduction Cluster (CCAMDRRC), as well as the Security, Justice, and Peace Cluster (SJPC).
Andanar said the government has introduced and welcomed change—leading to an increase in the number of lives improved since Duterte came into office in 2016.
"Patuloy ang pagbabago, patuloy ang pangako na magandang buhay para sa bawat Pilipino (change continues, the promise of a good life for every Filipino continues)," Andanar said.
"We look back with renewed optimism as the building blocks that were discussed in the first three SONAs have concretized the changes that Pres. Rodrigo Duterte vowed to achieve from day one of his administration," he added.
In his report, CCAMDRR Cluster chair and Department of Environment and Natural Resources (DENR) Secretary Roy Cimatu underscored the cluster's pillars of increased adaptive capacities of vulnerable communities, guaranteed adequate supply of clean air, water, and other natural resources, and increased community resilience.
"The progress of our beloved country in taking the lead and the effective integration of policies and programs on climate risk management, disaster risk reduction, and sustainable development has indeed been very admirable," Andanar said.
For his part, Security, Justice, and Peace Cluster head and Department of National Defense (DND) Secretary Delfin Lorenzana presented the measures undertaken to ensure just and lasting peace in the country. This includes the Armed Forces of the Philippines (AFP) modernization program, and the Philippine National Program (PNP) Capability Enhancement Program.
"Safety and Security has always been a priority by President Rodrigo Roa Duterte and many measures have been undertaken to pursue international friendships and partnerships to ensure a safer, more peaceful Philippines," Andanar said.
Meanwhile, Cabinet Secretary Karlo Nograles opened the forum, saying "Collectively, these SONA briefings represent an extended version of the president's state of the Nation address – a means by which people can take a closer look at the programs implemented by a government that recognizes its duty to inform the public about everything that the president and his administration is doing for and on their behalf to improve their lives".
A series of forums were organized prior to the SONA to provide the public with detailed information on the accomplishments of the administration likewise encourage attendees to participate in constructive dialogues with the government agencies.

The Pre-SONA Forums also provide room for the President to deliver messages straight from his heart during his SONA speech.
The Pre-SONA Forum kicked off on July 1 in Manila, led by the Economic and Development and Infrastructure Clusters. This was followed by the cabinet's Human Development and Poverty Reduction Cluster and Participatory Governance Cabinet Cluster in Cebu on July 10. (PR)