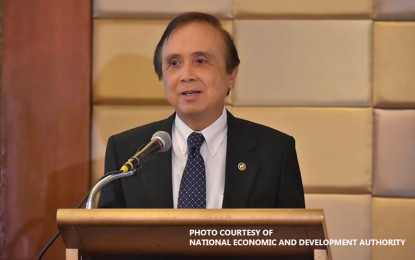 MANILA – Socioeconomic Planning Secretary Ernesto Pernia on Wednesday said the Philippines will likely advance to an upper middle-income status in 2020 despite slower economic expansion in the first quarter this year.
"We have set back by a year the likelihood of becoming an upper middle country to next year, perhaps because of the setback in our growth performance in the first quarter," he said in a press briefing.
Pernia said it is still possible to hit the goal of achieving such status in 2019, "but I think it's going to be surer next year."
The country's gross domestic product (GDP) expanded by 5.6 percent in January to March, its slowest growth rate recorded since 2015, due to delayed passage of the 2019 national budget.
In the World Bank's classification, upper middle-income economies are those with a gross national income (GNI) per capita of USD3,996 to USD12,375.
The Philippine GNI per capita reached USD3,830 in 2018.
As the country graduates to upper middle income by 2020, Pernia, the National Economic and Development Authority (NEDA) Director-General, further said the country needs to review its plans regarding the infrastructure program and determine "doable" projects.
This, as the cost of borrowing money to fund the country's spending on infrastructure and other investments is expected to get higher because of the anticipated status.
Pernia said there is a grace period of two to three years from the time the country achieves the status before changes in terms and conditions of lending agreement take effect.
"When we become an upper middle-income country and we get credit ratings upgrades, we will get the lower commercial rates in the global financial market," he added. (PNA)