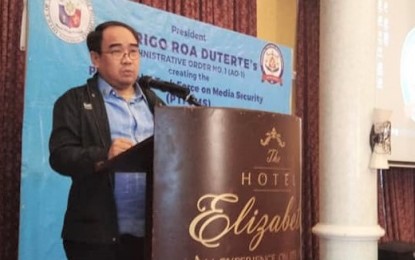 MANILA -- The suspects in the killing of Brigada FM anchor Eduardo Dizon in Kidapawan City have been identified and charged with murder, the Presidential Task Force on Media Security (PToFMS) announced on Thursday.
The PTFoMS said murder charges were filed at the City Prosecutor's Office of Kidapawan City against the suspects, "whose names remain undisclosed in order not to compromise any further action on the case".
The statements of the witnesses have led to the identification of the perpetrators, according to the task force.
Dizon was reportedly driving home to Tejada subdivision in Makilala town after his radio program 'Tira Brigada', when he was shot dead by gunmen on a motorcycle around 10:30 p.m. on July 10. He succumbed to five gunshot wounds on his body.
Upon instruction of PToFMS chair Justice Secretary Menardo Guevarra and co-chair Communications Secretary Martin Andanar, PTFoMS executive director, Undersecretary Joel Sy Egco, met with top officials of the Department of Justice (DOJ) and Philippine National Police (PNP) discuss updates on the investigation of Dizon's case on July 13.
During the case conference, a special investigation task group (SITG), headed by PNP North Cotabato provincial director Col. Maximo Layugan, was formed after it was officially declared that the killing of Dizon was related to his work.
The PTFoMS also immediately activated AO1 Task Force Dizon, which was supervised by City Prosecutor Melvin Lamata and Associate City Prosecutor Eugene Seron.
"As I have repeatedly said and vowed, a case like this one is very personal to me. If the evidence would support our theory, then it will further affirm our findings on the root causes of media violence in the Philippines," Egco said.
"We will leave no stone unturned in our quest, no matter how thankless our job is. We have to do this now not to earn brownie points or engage in propaganda but because we are genuinely concerned for the safety and welfare of all media workers, most especially those who are underprivileged," he added.
Guevarra commended the PTFoMS, the PNP and the prosecutors for what the PTFoMS described as another breakthrough in its relentless pursuit of justice for victims of violence against media workers.
"This reinforces the Duterte administration's commitment to serve and protect all sectors in our society, especially those in the 4th Estate, even if some of them are very critical of the government, specifically the President," Guevarra said.
"President Duterte's Administrative Order No. 1 creating the PTFoMS for the protection of the life, liberty and security of media workers, speeded up the process of obtaining justice for the victims," he added.
For his part, Andanar said the 'culture of impunity' as some people would like to exaggerate and dramatize each time a journalist is killed, will ultimately "be a thing of the past."
Dizon's wife, Madonna, warned that she will not allow anyone to use the case of her husband for political grandstanding.
"I will not allow the case of my husband to be politicized as I am well aware of some quarters' plans to use Ed's death for their political advantage," she said. (PR)