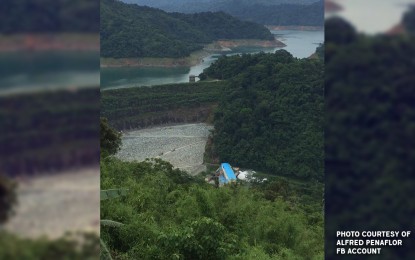 MANILA – Water shortage-stricken Angat Dam may soon get the much-needed boost.
The low pressure area (LPA) east of the Philippines will likely develop this weekend into a tropical depression (TD), which will enhance the southwest monsoon or "habagat", enabling the weather system to further bring rain over Luzon where Angat is, according to the Philippine Atmospheric, Geophysical and Astronomical Services
Administration (PAGASA) weather forecaster Ana Clauren.
"That rain will help increase water in Angat Dam," she said, adding that the "habagat" rain will be light to moderate to at times heavy.
The rain may occur anytime and will be of longer duration unlike rain from thunderstorms, she said.
The Angat Dam has been experiencing water shortage from lack of rain due to the El Niño phenomenon.
Rain from thunderstorms and "habagat" is helping Angat gain some water, PAGASA said.
The weather bureau reported Angat's 6 a.m. water level on Friday at 166.02 meters – or 0.57 meter higher than the level on Thursday.
In its 4 p.m. weather forecast, PAGASA located the LPA at 1,060 km. east of Catanduanes province's capital of Virac municipality.
Clauren said the LPA was recurving northeast away from the country.
However, she noted that it can still develop into a TD and enhance the "habagat".
The TD will assume the local name "Hanna", PAGASA said.
A tropical storm south of China has also been enhancing the "habagat", Clauren said, adding that it may however dissipate soon and no longer affect the southwest monsoon.
If that happens, she said, "Hanna" will enhance the "habagat". (PNA)