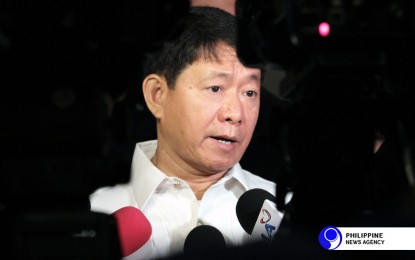 MANILA -- Department of the Interior and Local Government (DILG) Secretary Eduardo Año on Friday said the department will review the memorandum of agreement with state universities and colleges regarding police visibility in infiltrated schools and universities.
Año said in line with the government's "whole-of-nation-approach" in eliminating local armed conflict as stated in Executive Order No. 70,which created the National Task Force to End the Local Communist Armed Conflict (NTFELCAC), police presence in schools and universities can be increased to deter the recruitment program of Leftist groups.
"Tandaan natin na ang laban na ito ay hindi lamang sa red area o mga probinsiya kundi pati dito sa white area o mga lungsod - sa ating mga eskwelahan, factories at iba pa - ito ang kanilang target samantalahin (Let's remember that this fight is not only in red areas or in the provinces, but also in white areas ir cities, in our schools, factories, these are their target)," Año said in a statement.
He said the department will also conduct dialogues and increase engagements with school authorities and the student themselves "to raise awareness on (the) modus operandi of the Communist Party of the Philippines-New People's Army-National Democratic Front."
"Hindi natin sinasabi na masama ang mga student organizations, but many of them have been infiltrated already by the CPP (We're not saying that student organizations are bad, but many of them have been infiltrated by the CPP)," he added.
According to Año, there are 500 to 1000 youths being indoctrinated by the CPP-NPA every year and who either become members of the NPA or return to their respective schools as militant student leaders.
"They are using their alleged nationalism to teach children to kill and take up arms against the government," he said.
"Ang nangyayari kasi ngayon (What happens now is that) so many schools are deeply infiltrated by the CPP-NPA through their front organizations. Ngayon, itong mga rebeldeng ito ay may mga corresponding member organizations sa mga eskwelahan kaya ito yun dapat nating bantayan (Now these rebels have corresponding member organizations in schools that we should be vigilant)," he says.
He also said it is unfortunate that Republic Act 1700 or the Anti-Subversion Act was repealed, adding that these leftist groups should be banned for being subversive and illegal.
In the meantime, he said, the PNP has already initiated the filing of cases against the front organizations identified through a recent Senate hearing and in the government's own intelligence and investigations.
'White areas'
He also said that youth recruitment by leftist groups is only a fraction of the communist terrorist groups' (CTGs) elaborate campaign to overthrow the democratic government of the Philippines through armed struggle.
He explained that such activities are prevalent in "white areas" or urban centers, where they actively recruit new members and extort revolutionary taxes from legitimate businessmen to fund their armed rebellion in the "red areas", where they kill police officers and soldiers, government representatives, and anyone who opposes them.
"It's part of their DNA to do these recruitments and unfortunately, they are able to brainwash our youth. Kaya naman let us work together so that no Filipino will again be persuaded to abandon their families," he said.
He also urged local government units (LGUs) to exercise good governance to regain the people's trust in government.
"Good governance is our weapon against CTGs. Ang mga isyu na malapit sa bituka ang target samantalahin ng mga CTG na ito sa kanilang recruitment (The CTGs choose issues close to their targets during their recruitment). I prod LGUs to put emphasis on programs that will address these issues as this can save our country from the havoc of these communist-terrorists," he stressed.
"Prioritize programs that will tackle deeply-rooted issues such as provision of adequate social services including education, and improved quality of life for all, among others," he noted.
The DILG Chief also assured the parents, whose children were recruited by leftist organizations, that they will help recover their children.
Año warned parents of the active recruitment by leftist organizations in schools and universities nationwide and said that parents must be vigilant and "involved in guarding their children since these Communist-Terrorist Groups (CTGs) have little to no regard for the lives of the youth."
He said these organizations are masquerading as "progressive pro-poor organizations" when in fact they are front organizations or recruitment centers of the CPP-NPA.
"These organizations are brainwashing the children and destroying the youth of our country," he said.
A retired former Chief of the Armed Forces, Año disclosed that the recruited minors are usually deployed in the mountains and they "eventually end up as casualties in the firefight between Government forces and the Communist rebels."
In the recent Senate hearing, a group of mothers emotionally conveyed stories of how their child abandoned their families "for the chance to fight for the country" after being brainwashed by Leftist groups.
The CPP and its armed wing, the NPA, are listed as a terrorist organization by the United States, the European Union, the United Kingdom, Australia, Canada, New Zealand, and the Philippines. (PNA)