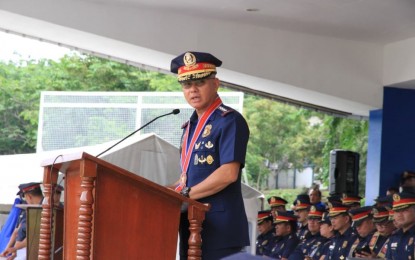 MANILA -- Philippine National Police (PNP) chief, Gen. Oscar Albayalde on Tuesday supported Department of the Interior and Local Government (DILG) Secretary Eduardo Año's proposal to reinstate the anti-subversion law to prevent recruitment of students by communist groups.
"Of course, kung sa amin (for us), we support the good secretary yung kanyang (on his) move," Albayalde told reporters on the sidelines of the National Capital Region Police Office 118th Police Service anniversary celebration at Camp Bagong Diwa in Taguig City.
Albayalde, however, said it would require "several studies" whether anti-subversion law will be more productive or become harmful.
"Ang sa atin is itong mga nangyari na ito (For us, these activities) these are just very few in our society. Remember kaya ginagawa nito (They are doing it) because they are struggling desperately to show their existence and significance sa ating (in our) community where in fact ito po ay mangilan-ngilan na lang sa ating (they are just few in our) society," Albayalde said.
"There was a change actually, there was a paradigm shift, ito yung nakikita dyan. Ito yung nakikita natin kapag nagtulung-tulong tayo mawawala ito sa ating bayan at magkakaroon tayo ng true economic development dito sa ating bayan (This is what we see. If we will help each other to eliminate this in our country, we will have true economic development)," he added.
For his part, Año emphasized the need to support Executive Order 70 which created the National Task Force to End the Local Communist Armed Conflict (NTFELCAC)) "to finally end the communist insurgency."
"US did not repeal its communist control act of 1954 that's why it's impossible for the subversive organizations to thrive in the US," he said.
Año said DILG will be drafting the proposal that would make the new anti-subversion law to be more attuned to the demands of the present time.
"What we will do is draft this measure and go back to the old and siguro kung anong dapat palitan dun (perhaps look at what needs to be amended). We will have that measure to be adaptive to the current times," Año said.
He also called on the local government units to spearhead the implementation of the national action plan to prevent and counter violent extremism.
"After all, the community is the most vulnerable sector. So, it can be cured with good governance and delivery of services to lessen the vulnerability," Año said. (PNA)