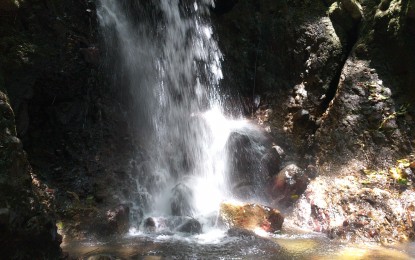 ANAHAWAN, Southern Leyte -- People in this small town are thrilled by big things lined up in their local tourism industry.
Development plans have been laid down for four tourism sites in this sleepy coastal town, endowed with eco-tourism "gems" unfamiliar to tourists and even among Southern Leyte residents.
Tagged as major attraction is the highest elevation of Anahawan town, offering a perfect view of its town center and four nearby Pacific coastal towns in Southern Leyte: Silago, Hinunangan, Saint Bernard, and Hinundayan.
From the top, these rural communities are like white and brown dots in the middle of thick vegetation and blue sea.
"We propose to build a viewing deck on the top of the mountain for tourists using indigenous materials, but we have to consult with eco-tourism experts because we want to do things right," Anahawan Mayor Alfredo Luna told the Philippine News Agency (PNA) on Tuesday.
Luna asked the central government to finance the concreting of the road going to the Kagingkingan village, as the site is also ideal for group camping and extreme-mountain trekking.
It also offers alternative access to Lake Danao in San Juan town, a popular destination among mountaineers in Eastern Visayas.
The Kagingkingan village is about seven kilometers from the town center. In the past, the Philippine National Oil Company established a trail to the area for its geothermal power exploration.
The local government also asked the Department of Tourism (DOT) to send a team of mountaineers to inspect the village and recommend specific eco-friendly structures meant for campers and nature lovers.
Century-old acacia, 2 waterfalls
A few kilometers downhill from the highest elevation is the century-old acacia tree in Capacuhan village. Earlier, the Southern Leyte provincial government officially recognized it as one of the century-old trees in the province.
"When I was in Grade 1, this was already a huge tree and we used to play around here. We hope that more people will come and visit our place," said Anahawan Vice Mayor Nestor Vestal, who is now 61 years old.
Capacuhan village is also known for two waterfalls - Kamagong and Kabigong. Kamagong, a 15-meter high waterfall can be reached by a 20-minute hike.
The more extreme is the 20-meter high Kabigong Falls since one has to take an hour trek downhill from the community and cross a neck-deep river. In some portions, a trekker has to cling to roots and plant their feet firmly on rocks to advance.
For nature lovers, it is worth the effort and the sweat as visitors will see rare ferns, insects, and frogs along the way and breathe the cold and fresh forest air.
Elmerito Lariba, 46, who volunteered to take trekkers to the waterfalls, hopes that more tourists will visit their village so he could shift from being a motorcycle driver to a tour guide.
"These waterfalls have been there even before my great grandfather was born and this is my first time to hear about plans to promote it as an eco-tourism destination. I am very excited!" Lariba told the Philippine News Agency.
Hot spring in Mainit
Just three kilometers away from the centennial tree is the Mainit village, a community known for a hot spring of sulfuric water believed to have healing properties. The site, initially developed by a local businessman, is being poised for recreation and wellness.
DOT Eastern Visayas regional director Karina Rosa Tiopes said although there are cottages set up within the hot spring, they still consider the destination as raw since there are more facilities needed to further develop the site.
"The hot spring has a huge potential for wellness, especially that we only have few tourism assets like this in the region. We have to tap experts to determine if the sulfur quantity is really good for wellness," Tiopes told reporters.
Farm destination
From the town center, a visitor can just take a walk or ride a motorcycle to Rosmin Farm in San Vicente village, owned and managed by event specialist Miguel Miñana. The farmhouses and cottages are situated amidst the lush greenery of coconut trees and expansive grassland and the sea.
"This is not a resort, but a farm destination to enjoy farm life and the convenience of staying in a resort," said Miñana, who headed ThemeWorks Events, a firm that handles many prominent corporate and social events, including Malacañang's State Dinners.
The accommodation facility and 65-hectare coconut farm tourism destination are considered as the only tourist-ready facility in the town.
It's guest rooms and cottages can accommodate up to 40 guests. The rate for a room for a couple or a family of three is PHP3,500 per night while the guest house designed for eight to 10 people can be rented at PHP6,500 per night.
"We're not adding up new structures here because we want to keep the place as a family farm," said Miñana, who has been working to secure a DOT accreditation.
Tiopes is confident that with the commitment of Anahawan local government to develop tourism, the town will progress through tourism-related livelihood opportunities.
"If the local government will be able to develop these sites, these areas can be very attractive, Let's tackle one thing at a time given the available funds we have and possible funding sources," Tiopes said.
The tourism department brought a team of experts from Tacloban City and Metro Manila to this town last week to come up with recommendations on how to develop the town's raw tourism assets.
This is a 5th class town in Southern Leyte with a population of 8,211.
From the airport in Tacloban City, visitors have to make a two-hour land trip to get to the town. There are regular trips from the city to nearby Hinunangan and Saint Bernard towns.
The town's name is derived from "Anahaw" or the round-leaf fountain palm, the country's national leaf. It is one of the smallest town in the region with a total land area of only 58 square kilometers. (PNA)