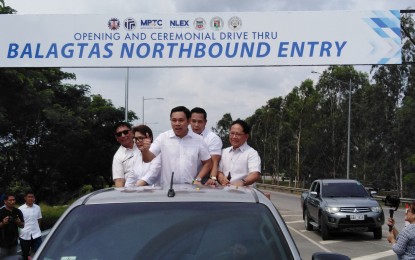 BALAGTAS, Bulacan- -- A joint road project of the Department of Public Works and Highways (DPWH) and NLEX Corporation was opened on Tuesday here that would give a faster and more convenient travel in this province up to the central and northern part of Luzon.
The new 600-meter Balagtas northbound entry provides direct access to motorists coming from the Balagtas Interchange going to NLEX northbound, bypassing local roads and Sta. Rita Interchange in Guiguinto town.
"The Balagtas Northbound Entry, which started construction early this year, is part of the government's road network improvement plan aimed at easing traffic congestion and bringing more investment in Central Luzon," DPWH Secretary Mark Villar said.
Villar said the project is expected to decongest the traffic at the NLEX Sta. Rita exit and in the Daang Maharlika, particularly Plaridel and Guiguinto sections, as it will provide another access way going to expressway.
In 2012, NLEX opened the Balagtas Interchange, which linked to the DPWH-built Plaridel Bypass Road.
The inaugural drive-thru for the new northbound was led by Villar, Bulacan Gov. Daniel Fernando, Balagtas Mayor Eladio Santos, and Guiguinto Mayor Boy Cruz Jr.
Also present during the event were Toll Regulatory Board (TRB) Executive Director Abraham Sales, Metro Pacific Tollways Corporation (MPTC) president and chief executive officer Rodrigo Franco, NLEX Corporation president and general manager Luigi Bautista, and DPWH Regional Director Roseller Tolentino.
"This new gateway to the north signifies Metro Pacific's commitment to enhance countryside development and make travel easier and more comfortable to everyone," Franco said.
Bautista said the new road hopes to improve mobility and productivity, especially for those coming from Balagtas and those using the Plaridel bypass from Guiguinto, Plaridel, Bustos and Baliwag.
Meanwhile, Tolentino said the DPWH has allocated a total of PHP36.65 million for the construction of the new road network.
"The Plaridel Bypass Balagtas northbound entry project involved the construction of the said new road which has a total length of 432.407 linear meters, and other necessary improvements," Tolentino added.
The DPWH is also set to construct another road project at the southbound exit of the NLEX in Balagtas.
The project, which is expected to complement the existing Plaridel Bypass Balagtas Northbound entry include a 790.384-linear-meter road and bridge amounting to PHP110.75 million.
The two road projects were implemented by DPWH Bulacan First District Engineer Henry Alcantara and assisted by Assistant District Engineer Aris Ramos.
Balagtas Mayor Gonzales and Guiguinto Mayor Cruz thanked both public and private firms involved in the construction of the new road.
"We are grateful and excited about this. It's something that the whole community has been waiting for," Cruz said. (PNA)