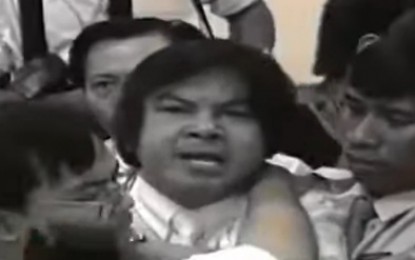 MANILA -- Senate Minority Leader Franklin Drilon on Thursday filed a resolution seeking a congressional inquiry into the eligibility of convicted rapist, former Calauan, Laguna Mayor Antonio Sanchez for early release from prison.
Drilon, who prosecuted the former mayor when he was justice secretary for the 1993 rape-slay of University of the Philippines Los Baños student Eileen Sarmenta and the killing of her companion Allan Gomez, questioned the applicability of Republic Act 10592, which reduces an inmate's prison sentence due to good behavior.
"Sanchez's alleged good behavior is questionable because in 2006 he was charged with possession of illegal drugs after a prison guard allegedly found him to be keeping a packet of 'shabu' and marijuana along with other illegal drugs paraphernalia," Drilon said in the resolution.
Drilon also noted that Sanchez was again caught with PHP1.5 million worth of shabu in 2010.
The senator appealed to the Department of Justice to put on hold the impending release of the former mayor.
Sanchez was convicted by the Pasig Regional Trial Court in 1995 for seven counts of rape with homicide and sentenced to suffer seven reclusion perpetua (40 years imprisonment).
Bureau of Corrections (BuCor) spokesperson Sonny del Rosario said Sanchez has already served 49 years following the computation of his good conduct time allowance (GCTA).
"We appeal to the Secretary of Justice Menardo Guevarra to hold the release of Sanchez and to review and study carefully if, number one, Sanchez is really entitled to the benefits of RA 10592; and, number two, if he has really exhibited good conduct while he is in prison," Drilon said.
Meanwhile, Senate President Vicente Sotto said he would file a resolution asking for a review of RA 10592 covering the good behavior issue.
Sotto found the computation of Sanchez's jail term as questionable based on his supposed good conduct in prison.
"I will probably agree that this is questionable because I don't believe that the computation is correct and I don't know what their definition of good behavior is. Possession of illegal drugs is good behavior?," Sotto said.
Sotto said the review of the law should also exempt those prisoners charged with heinous crimes from the coverage of the law.
"I think the review would call for the inclusion of heinous crimes in the elaboration in the law. In other words, right now, the way I'm thinking, I will push for the exemption on this issue of good behavior if it's a heinous crime. Basta't classified na heinous crime, hindi dapat mag qualify (If it is classified as a heinous crime, you should no longer qualify)," Sotto said. (PNA)