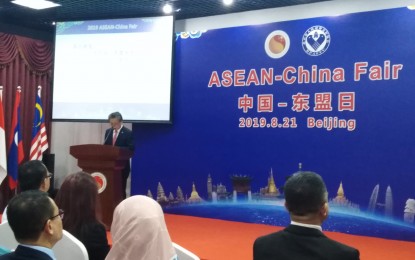 BEIJING -- The 10 member-states of Association of Southeast Asian Nations (Asean) and China shall continue people-to-people exchanges to strengthen relations for further cooperation, Asean-China Center Secretary General Chen Daihe said.
During the Asean-China Fair in Beijing Wednesday (August 21), Chen attributed the strong relationship between Asean and China to people-to-people exchanges between the two sides.
"People-to-people exchange is one of the most important pillars of Asean-China relationship. Strengthening cooperation in culture, education, tourism, and media between two sides is important to promote cultural learning," he added.
China's Ministry of Foreign Affairs Counselor Liang Jianjun said Asean and China shall seize the opportunity of deepening people-to-people and cultural exchanges as these become the driving force for continuous progress in the region.
He noted that there were 37 million people who either visited China and the 10 Asean member states in 2018.
The number of visits for education is also increasing, Liang added.
"This year, as we celebrate the Asean Culture Year and Asean-China Year of Media Exchanges, it is a prime time to further our people-to-people and cultural exchanges, culture, education, and media," Liang said.
For Beijing People's Association for Friendship with Foreign Countries Executive Vice President Zhang Qian, it will be a good strategy to make the youth as the center of people-to-people cooperation between Asean and China.
She said the organization has been focusing exchanges through education by inviting students from the 10 Asean countries.
Zhang added that this is also an opportune time for China to share its reform and opening up to Asean youth for them to better understand the development of the East Asian giant.
Meanwhile, the Asean-China Fair has featured food and cultural shows from Brunei Darussalam, Cambodia, Indonesia, Laos, Malaysia, Myanmar, the Philippines, Singapore, Thailand, and Vietnam as well as China's Beijing, Harbin, and Guizhou. (PNA)