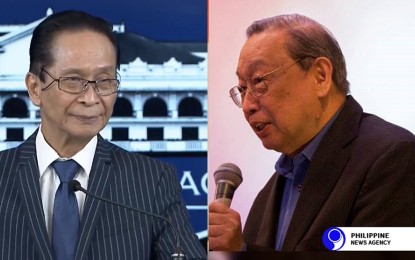 MANILA -- Malacañang on Friday urged Communist Party of the Philippines (CPP) founder Jose Maria "Joma" Sison to come home and "face the music" after a Manila court ordered his arrest and 37 others for their involvement in the so-called Inopacan Massacre in the 1980s.
In a statement, Presidential Spokesperson Salvador Panelo said Sison is welcome to return to the country to "avail of his constitutional right to confront his accusers and prepare for his defense."
"Mr. Sison should unchain himself from his exile and face the music. His illusive if not illusory dream of wresting political power from the present dispensation should give way to a principled and courageous stand to face trial," Panelo said.
The CPP founder has been staying in the Netherlands as a political refugee.
Panelo said the Palace respects the decision of Presiding Judge Thelma Bunyi-Medina, of the Regional Trial Court Branch 32 in Manila, to issue a warrant of arrest against Sison and 37 other people in relation to the mass purging by the armed wing of the CPP, the New People's Army (NPA), in Leyte.
"The law is no respecter of any transgressor and prosecution, therefore, must proceed in accordance thereof. Mr. Sison, et al. will have their day in court," he said.
"We are one with the families and loved ones of the victims in calling for justice, the warrant of arrest shall be served as directed upon us by the Judiciary," Panelo added.
Based on estimates of former rebels and the victims' relatives, the Inopacan massacre or mass purging, dubbed by the NPA as "Oplan Venereal Disease", killed about 300 residents in Leyte.
Families of purging victims, during the 12th commemoration of the massacre on September 2, continue to cry for justice for their loved ones who were summarily executed by communist rebels on suspicion of ties with the military.
The CPP-NPA is listed as a terrorist organization by the United States, the European Union, the United Kingdom, Australia, Canada, New Zealand, and the Philippines. (PNA)