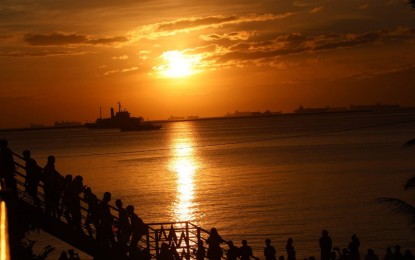 MANILA -- The Department of Environment and Natural Resources (DENR) on Friday assured lawmakers that the Manila Bay Rehabilitation Program is in full swing, with a probability that the once polluted body of water would be safe for swimming activities by the end of the year.
The probability of Manila Bay being fit for swimming was brought up by DENR Secretary Roy Cimatu during the agency's presentation of its proposed PHP25.5 billion budget for 2020.
The DENR's budget for next year is 16 percent higher than the PHP21.959 billion it got for 2019.
Among the major programs to be funded in next year's appropriation is the Manila Bay Rehabilitation, with a budget of about PHP1.5 billion.
The cleanup of Manila Bay was brought up by House Minority Leader and Manila 6th District Rep. Bienvenido Abante Jr., who asked on the updates of the program aptly called "Battle for Manila Bay."
Environment Undersecretary Juan Miguel Cuna said the Manila Bay rehabilitation is currently in its first phase, which is the cleanup and water quality monitoring.
The DENR official, whom Cimatu said is his "ground commander" in the ongoing battle, said the weekly cleanup mandated by the Department of the Interior and Local Government (DILG) to all barangay is regularly undertaken.
"We are strictly are monitoring the compliance to this directive along with DILG," Cuna told the lawmakers.
The DENR is also coordinating with the Metro Manila Development Authority (MMDA), the Department of Public Works and Highways (DPWH) and the Laguna Lake Development Authority (LLDA) to ensure compliance with sewage treatment facilities by the different establishments so that fecal coliform levels are strictly monitored.
"Since the Battle for Manila Bay was launched last January 27, we have witnessed a lot of improvement in terms of solid waste that we see floating in the bay," Cuna said.
"We inspect all esteros flowing to Manila Bay. In fact the Secretary assigned particular undersecretaries, assistant secretaries, and directors to oversee particular rivers and esteros, and we have been coordinating with the barangays and other agencies to ensure that they are clean and to stop the loading of the pollution primarily," he added.
So far, the DENR had issued 1,572 Notice of Violations to non-compliant commercial establishments and collected 1.6 million kilograms of solid waste from the cleanup activities.
It had also mobilized 48,661 volunteers and inventoried 34,000 informal settler families living along waterways for relocation.
However, Abante noted that there are two major rivers flowing to Manila Bay -- Pasig River and San Juan River.
"The Pasig River is currently rehabilitated, but the San Juan River, my goodness, it is the dirtiest river in the world. If the San Juan River is rehabilitated, it would greatly help in the rehabilitation of Manila Bay," Abante said.
Cuna pointed out that the San Juan River is already declared a water quality management area.
"This is provided by the Clean Water Act to address water quality management. A governing board has been formed and they are meeting already on how to address the water quality," he said.
"Over and above that, we have oversight of particular officials of particular river systems. Two assistant secretaries entered memoranda of agreement with private partners Jollibee and Aboitiz Group and they are starting to map out their action plan for this particular river because we agree that this is one of the dirtiest rivers in the world," Cuna said.
Abante said he is thankful that President Rodrigo Duterte saw the need to rehabilitate the waterways and Manila Bay.
"Are you happy with 16 percent raise in your budge?t," he asked the DENR chief.
"We are very happy, and we are also happy with your support of this. Being the congressman from Manila, I will assure you that we will continue, we will use our political will for the cleanup of Manila Bay. That is what we can assure you," Cimatu replied.
Abante asked the DENR head if he could be notified whenever a meeting concerning the rehabilitation program is scheduled.
He said he is keenly interested in the Manila Bay cleanup because as someone who was born in Manila, he used to swim in the bay's breakwater in his youth.
"Ako po ay ipinanganak sa Maynila, at noong ako po ay bata pa, doo po ako lumalangoy sa breakwater. Noong araw po nung bata pa ako. Nakakapag-uwi kami ng alimasag. I am looking forward na sa aking twilight zone ay makakalangoy pa rin ako sa breakwater sa Manila Bay," Abante said.
(I was born in Manila, and when I was still a kid, I swim at the breakwater. In those days, we even catch and take home crabs. I am looking forward, that in my twilight zone, I could still swim in Manila Bay.)
"Yes, your honor. We just hope and pray that come again on this December this year, we will join together to swim in the Manila Bay again your honor," Cimatu said.
Abante assured the DENR that "the Minority bloc would not block" the agency's budget, but will fully support it.
Meanwhile, House Majority Leader and Leyte Rep. Martin Romualdez said the majority joins the Minority in fully supporting the DENR budget.
He also cited the exemplary performance of Cimatu in the implementation of environmental laws, including his display of political will in the rehabilitation of not just Manila Bay, but also of the country's top tourist destination, Boracay Island.
"Our all-out support for the firm leadership of the great Secretary, General Roy Cimatu. The DENR is now reaching its greatest heights. To the best secretary ever, you have all our support for DENR, more power to you and the department," Romualdez said. (PNA)