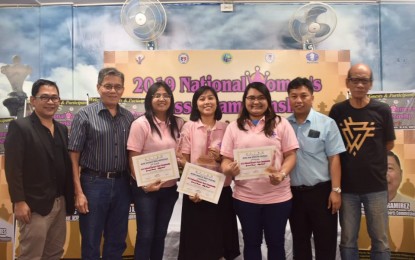 MANILA – Women International Master (WIM) Jan Jodilyn Fronda is the new national women's chess champion.
Fronda capped another memorable campaign with a brilliant final-round victory over Women Fide Master (WFM) Allaney Jia Doroy in 42 moves of the King's Indian to crown herself as the champion in the 2019 National Women's Championship at the Philippine Academy for Chess Excellence (PACE) headquarters in Mindanao Ave., Project 6, Quezon City on Thursday (Sept. 12).
A three-time UAAP MVP with La Salle, Fronda finished strong by winning three of her last four assignments.
In the 13th and last round battle with Doroy, Fronda showed the perils of capturing seemingly harmless pawns.
"After 24 Bxb7 came Fronda's Nxb5 followed by 25…Nd4. Doroy took off the knight and Black had a powerful central pawn mass which led to victory," wrote journalist Ignacio Dee in his daily analysis of the game.
Overall, the 25-year-old pride of Alaminos, Pangasinan finished with 9.5 points on six wins and seven draws in this prestigious tournament organized by the National Chess Federation of the Philippines (NCFP) to determine the country's representatives to the 2020 World Chess Olympiad on Aug. 1-15 in Khanty-Mansiysk, Russia.
Three players – former champion WIM Shania Mae Mendoza, top seed WGM Janelle Mae Frayna and WIM Marie Antoinette San Diego – finished in a tie for second to fourth places with nine points, or only half point behind Fronda.
Mendoza whipped May Ann Alcantara in 54 moves of the French defense, Frayna trounced WCM Mira Mirano in 47 moves of the Slav and San Diego overpowered Samantha Umayan in 32 moves of the London System.
Erstwhile solo leader WIM Kylen Joy Mordido bested Natori Biazza Diaz in 42 moves of the Sicilian to share fifth to sixth places with WIM Catherine Perena-Secopito with 8.5 points.
Secopito drew her match against Rizalyn Jasmine Tejada after a marathon 74 moves of the Scandinavian opening.
WIM Bernadette Galas and WIM Mikee Charlene Suede battled to a draw after 59 moves of the Sicilian.
Tournament director GM Jayson Gonzales and supervising arbiter Gene Poliarco awarded the trophies and cash prizes to the winner, with Fronda bringing home the top prize of PHP25,000.
Mendoza, Frayna and San Diego split the combined PHP30,000 cash prizes for the second to fourth placers. (PR)